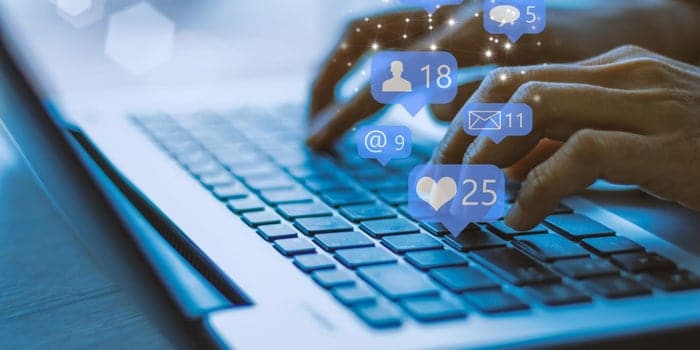 Get ahead of some of the predicted social media trends for 2020 and start your business off on the right foot. Social media has a large impact on consumers' lives and daily routines; businesses that can connect with consumers on social media and stand out among competitors can turn those potential followers into leads and results. Check out these eight trends for social media in 2020 and look ahead at how these ideas can help your business grow.
1. Instagram stories and other story features on the rise
According to Hootsuite, 64% of marketers have already incorporated Instagram stories into their marketing strategy, or plan to. Most viewers prefer short, engaging content as opposed to lengthy posts. Shorter posts, like stories, become addictive in a way that people can spend hours scrolling through one story after another. Stories have been a more recent addition to YouTube, as well. This article from Later shows how Instagram Stories are effective for businesses and how to get the most out of short content.
2. Niche platforms performing best
Facebook and Instagram are not the only dominating social media platforms anymore. Tik Tok, WhatsApp, and Facebook Messenger are increasing in popularity, according to Statista.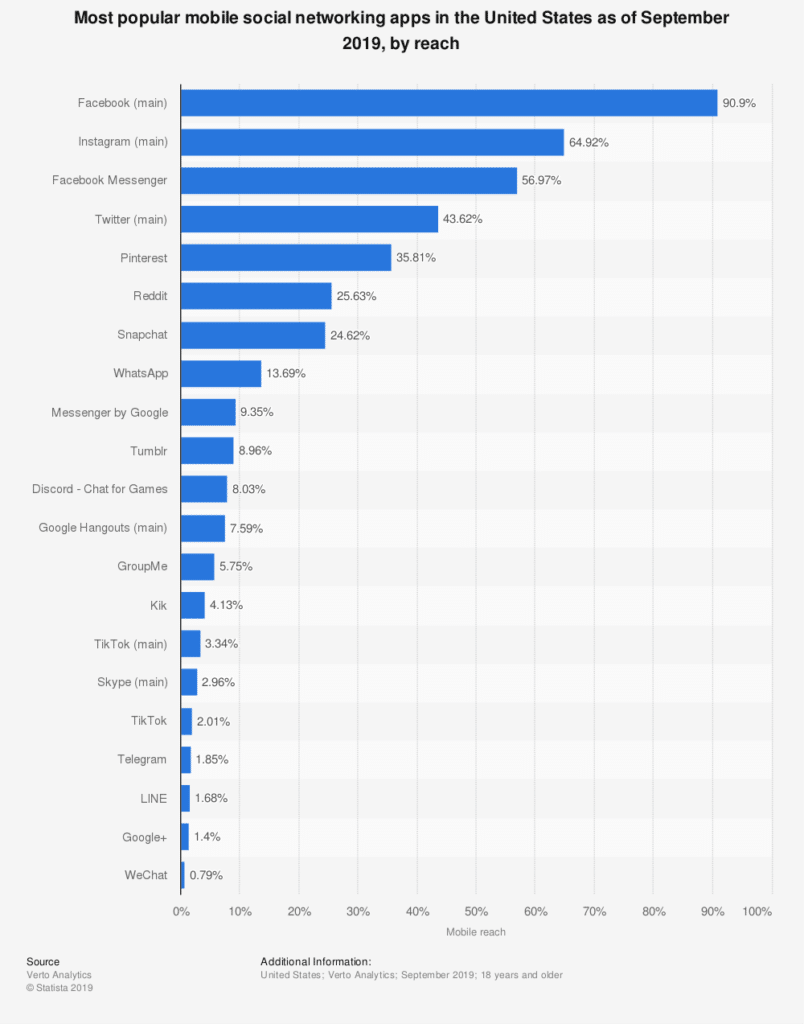 Tik Tok has found its target market in the younger generations, specifically boys and girls ages 16-24. A business can use TikTok to connect with the audience on a more personal level. Tik Tok is all about fun, light-hearted, and visually appealing content. By staying on top of TikTok trends and posting relevant videos, businesses can connect with their audience. Another way for brands to take advantage of Tik Tok is to encourage user-generated content. On TikTok, this would mean asking users to share videos in response to a video or idea your brand created. For example, according to Influencer Marketing Hub, a Chinese restaurant Haidilao encouraged users to share videos creating their own off-menu dish.
3. Instagram removing "like" feature
A major change to Instagram is currently in beta testing and maybe soon applied globally: removing the "likes" feature on all posts. This change is an attempt to get more marketers to invest in Instagram ads as opposed to paying influencers based on the total number of likes. Another major factor in the push to removes likes is the belief that likes determine a person's social value and waiting for this validation is negatively impacting mental health. This study from My Wellbeing shows how "likes" on social media affects your mental health. With Instagram removing the "like" feature, your business will not be able to gauge the popularity of a post based on "likes". However, this is a chance to increase engagement in comments and shares. Encouraging followers to reply to hashtags, stories, and posts will still allow interaction between your brand and your consumers.
4. Video content is dominating
Video content has increased over the last few years to the point of total domination in 2020. According to a Cisco study, by 2022, 82% of all online content will be video content. Short videos are the future, as seen in Instagram stories and other story features. Businesses can take advantage of video content by sharing live feeds of an event, behind-the-scenes at the office, or a brief commercial about the company. The ideas for video content should be based on your brand's beliefs, products, and vision.
5. Social commerce vs e-commerce
Brands are taking advantage of platforms such as Pinterest and Facebook to sell their products. From shoppable posts to Instagram storefronts, brands are taking advantage of social media to compete with other retail platforms. According to Pixlee, 74% of consumers rely on social media to guide their purchases and 43% of consumers say they are more likely to buy a new product when learning about it on social media. In addition, 33% of consumers have acted on promotion on a brand's social media page. Facebook is one of the best platforms for a social commerce plan. On Facebook, you can create a shop product catalog, customize it for your target audience and users, and sell directly from your Facebook page. From this catalog, you can see how many customers are purchasing products, views of the catalog, and other analytics to understand how your campaign is working.
6. Influencer marketing
Influencer marketing has been on the rise with a major increase in 2019. However, it is only the beginning. Influencer marketing takes advantage of YouTube and other social media celebrities with large followings. These influencers can be in any industry, from fashion to photography, to video games. The use of influencers in campaigns may have more impact and better results than the use of one celebrity in a marketing campaign. Working with influencers can give brands an opportunity to reach a larger audience. Interactions between businesses and influencers need to have the opportunity for both sides to be successful. For example, a campaign that solely benefits the business with not attract any influencers to be involved. This article from Influencer Marketing Hub shares some examples of how to create connections between your business and influencers to successfully grow your audience and reach.
7. User-generated content
Asking customers to create content for a chance to get featured is a great example of user-generated content to increase engagement and leads. This user-generated content can then become social media content for days and weeks to come. It also allows brands to see what ideas customers find the most important. This post from HubSpot shows some of the best examples of user-generated content and campaigns.
8. Rise of social media communities
Social media communities are defined as social groups created by brands to provide a networking platform for its customers. While these social communities are not new, the popularity of them has been on the rise in recent years. Brands can utilize these communities to bring existing and prospective customers together and engage with them meaningfully. This space allows members to discuss their experiences and ideas. It also allows brands to gain customer feedback and insights. A good example of social communities done right is what LinkedIn offers users. Brands can create groups and invite customers, fans of the brand, or like-minded people to discuss a wide range of topics focusing on that brand. Consider setting up your own social community on Facebook, Twitter, or LinkedIn to connect with your audience and develop brand evangelists to help strengthen your brand's identity in the market.
Social media is an organic, constantly changing entity. While these trends for 2020 may be popular and upcoming, it is difficult to predict what the future may hold for social media. Implementing some of these trends into your marketing strategy, while also monitoring competitors and keeping your finger on the pulse of your audience will help you take your social media to the next level.
If you are ready to take the next step for your business and create an engaging social media presence, let Wellspring Search help. Our team knows exactly what it takes to establish and maintain your business presence on the most popular platforms in order to extend the reach of your brand. More importantly, we know how to get results and deliver ROI for each customer we work with. Request a free consultation online or call any of our office locations for more information; for Fairfield, PA, call 717-457-0522; Frederick, MD, call 240-650-9996; Gettysburg, PA, call 717-457-0706.