We welcome Omi Sido, a highly experienced enterprise SEO who is currently Senior Technical SEO for Canon (Europe) as a first-time contributor to the Wellspring Search blog. In this post, Omi tackles Search Intent and why this is important to both SEO and generating customers from your website.
Converting More Customers and User Search Intent
When digital marketers talk about SEO, they normally talk about bringing traffic to a website. And to generate traffic digital marketers normally talk about keywords. But bringing lots of traffic to a website doesn't necessarily mean revenue.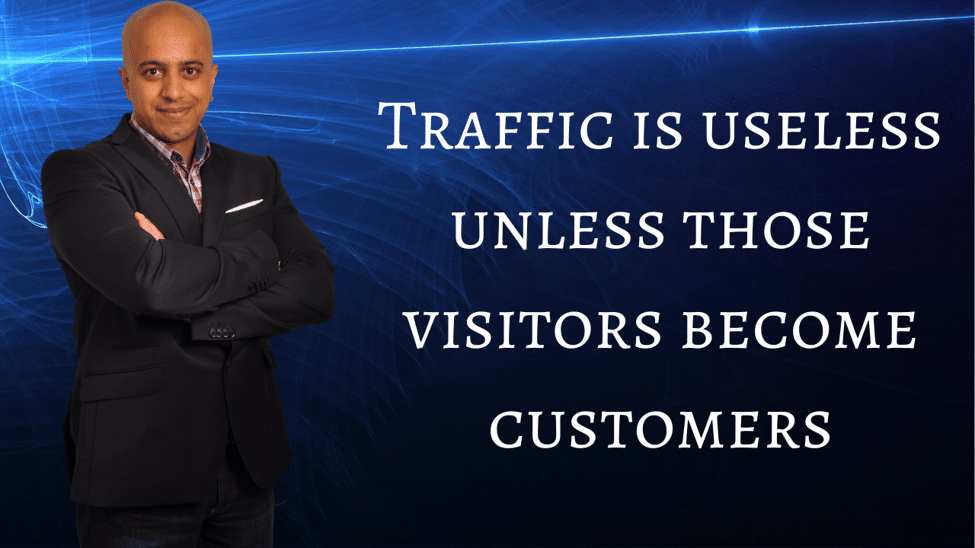 Two keywords that have the same search volume and bring an equal amount of traffic to your website – may convert your visitors into customers at a totally different rate. Not just that but a keyword with a low search volume may bring a lot more revenue than a keyword with a massive search volume.
It's quite obvious that not all keywords are equal (and for some reason, it doesn't get discussed much) and our SEO strategy that otherwise looks good on paper may not work well in the real world.
So please stop for a minute and think: what are your potential customers searching for online and why are they searching for that specific term.
In the SEO world, we tend to talk about 'keywords' but in reality, people are using 'search queries'. Digital marketers optimize for keywords and create digital marketing campaigns (SEO and PPC) based on keyword research but in the real world, users type search queries into Google to locate information online. And behind every search query, there is an intent.
Discovering User Intent
Before getting too specific let's look at a simple example: search queries with a different intent that are based around the same subject.
Simply typing the word 'Cat' in Google will pull up millions and millions of search results with no clear structure. I'm not saying that aiming to rank for a keyword like this is necessarily bad but it's just very unlikely that a broad term like that will bring the so-called 'qualified traffic' to your website. Not to mention the investment needed (both time and money) for an achievement like that.
"Do Cats need baths?" is a typical informational search. If you ask the salespeople they may call informational searches ice-cold leads; not very likely to convert. Yet these cold leads have value in that they improve your authority for other types of search queries, and also raises brand awareness.
In my opinion, digital marketers should use informational content to build relationships and strengthen brand presence online. If you do a good job of educating your 'cold leads' by truly answering their questions, they will likely remember your company when it does come time for them to make a purchase.
Also 'cold leads' could become brand promoters by sharing your content on social media, "like" it, or otherwise direct their social network to your company.
"Bulk dry cat food " is a typical transactional search. This searcher is already at the end of the Conversion Funnel and now the intent is to buy a product or service.
Now that we have a good idea of what the different search intents are let's get a little bit more scientific.
What are the types of search intent?
We classify search queries according to their intent into 3 categories:
Informational. The user is trying to acquire some information assumed to be present on one or more web pages.
Transactional. The user wants to perform some web-mediated activity
Navigational. The user wants to reach a particular site.
Informational intent
I am sure you already know that – and it's definitely not s surprising fact – but most searches on the Internet are from people looking for information. Information about the weather, celebrity news, information about SEO.
From a business point of view at this stage of the user's journey, the person is trying to get more information about a particular topic, product or service before they decide to make a purchase.
Typically, these are question-based, such as:
Who
What is/ What are the benefits of
Where
When
Why
Ways to
How/ How can I
Guide
Tutorial
From an SEO point of view, the goal should be to identify search queries that relate to the products or services your business provides. From this – this time let's call it 'search query research' instead of 'keyword research' – your content writers will then look to create content that answers these questions or provides information, which will help to get your website discovered online.
Many digital marketers ignore informational queries as they are hard to monetize – and this is absolutely true – but Google has a 'soft' spot for this type of queries called Featured Snippets (also known as answer boxes, knowledge graphs or Google direct answers).
There are many benefits of appearing in the organic search results and from my experience, if Google chooses to feature your website in their spotlight, via a featured snippet, your company can expect not only a hefty increase in traffic but also in overall brand awareness.
How to optimize for informational queries?
The simple answer to this question is: create high-quality content that is useful to your audience and provides helpful information relevant to the query.
While doing your 'search query' research goes after question-type search queries. For example, if you are using SEMrush you can find out which featured snippets your competitors have earned (as well as find out which featured snippets you're already ranking for) and then you can optimize your content for the same exact words and topics.
Another good idea is to look at the "People also ask" section of the SERPs.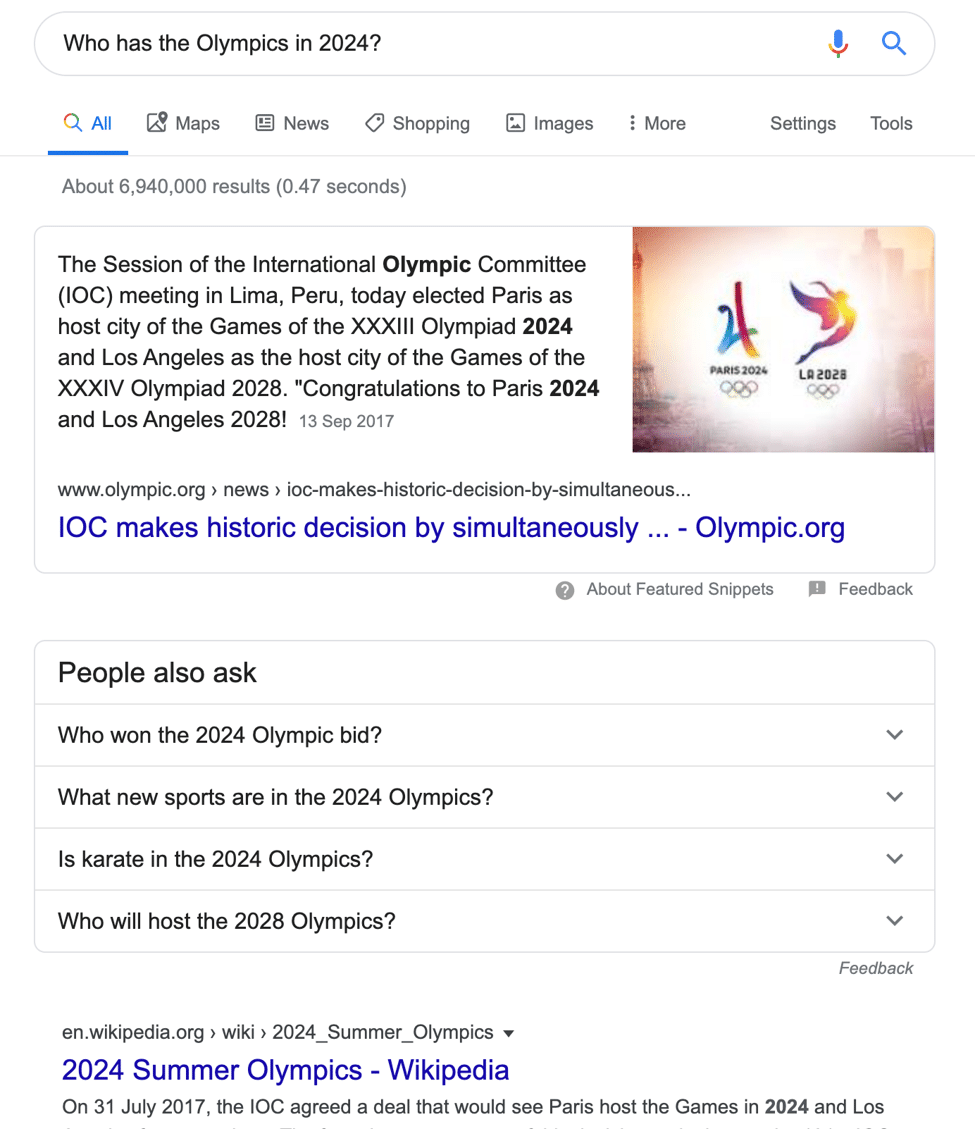 If you then click on one of the initial questions, more and more questions appear: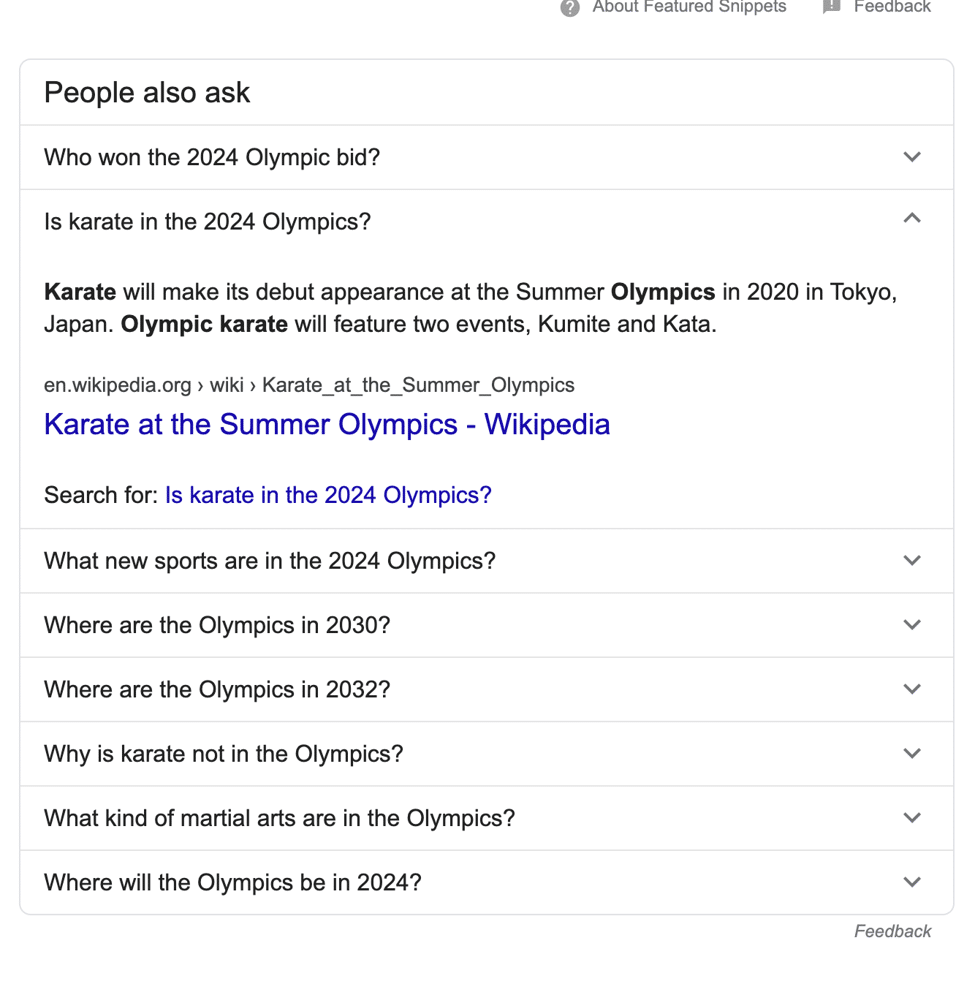 Consider the "People also ask" feature a goldmine for questions and topics that real people are searching for online. Together with Answer the Public you should be able to structure your article in a way that answers every related question for a particular topic.
Talking about the content structure I have to mention the so-called 'Inverted pyramid' way of structuring content. I love it, Dr. Peter J. Meyers of Moz loves it and 'Yes' Google loves it too.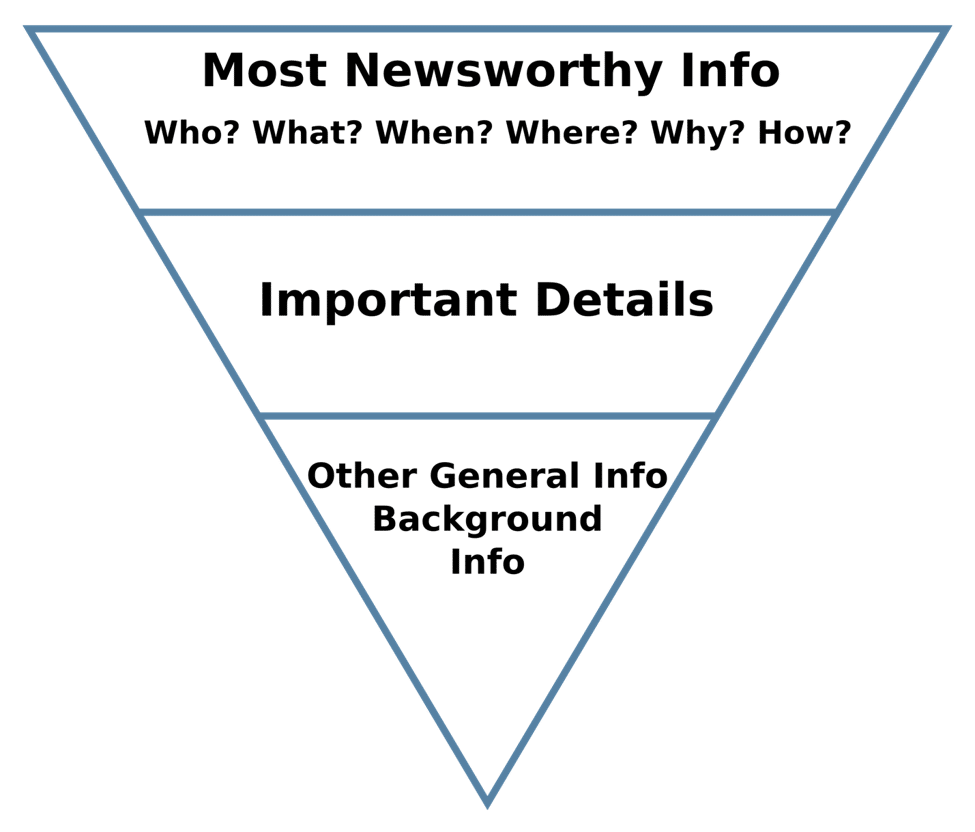 Having your conclusion as early on the page as possible means that the first few sentences on your web page will contain most of your relevant keywords, boosting your SEO. The inverted pyramid is a valid and clever technique to land featured snippets.
Effective content types for informational search intent:
Articles with tips formatted as lists
Step by step guides
Infographics
How-to videos – upload them on YouTube and link back to your article with the embedded YouTube video
Checklists – using terms like "checklist", "list" and "to-do list" in your description will greatly help
Transactional/Commercial Intent
"Transactional search queries" are requests where the user is looking to make a purchase. We can assume that the user has done all of the product research and (pretty much) knows what he wants.
Searchers online using keywords with transactional or commercial intent are indeed ready to buy and are the most promising prospects for a seller.
Very often the searchers may use some of the following keywords to communicate that intent:
Get a quote
Discount
Purchase
Pricing
Coupon
Reviews
Where to buy
Note that the user may also google a specific product like "MacBook Pro" or just type something like "running shoes". Also, many local searches are transactional in nature, like "Starbucks near me".
How to optimize for transactional queries?
To optimize for transactional search queries, make sure that your pages are fully optimized for the main term. For example, if you sell 'Rode Wireless GO Microphone' make sure that the keyword is present in your tags, meta description, image descriptions, basically everywhere (though do be careful not to keyword "stuff.").
On the page include detailed descriptions, prices, reviews, clickable "buy" or "download" buttons in one easy to find a place and as high as possible.
One thing I always advise my clients to do is to add product Schema markup to further signal intent.
(For a list of all JSON-LD Schema markup codes visits Steal Our JSON-LD)
In my opinion, some of the more valuable JSON-LD markups for transactional search queries are:
Product price – customers are able to see your competitive prices on the SERP – see below: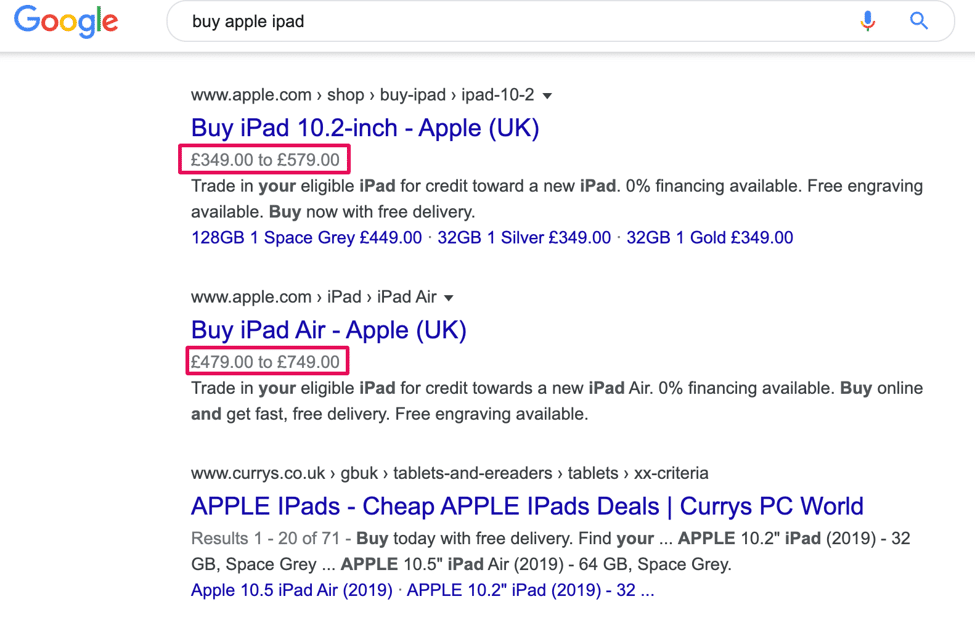 Product availability – this one shows if the product is in stock or not. That way (together with 'price') your potential buyers know straight away if you're the site they looking for – see below: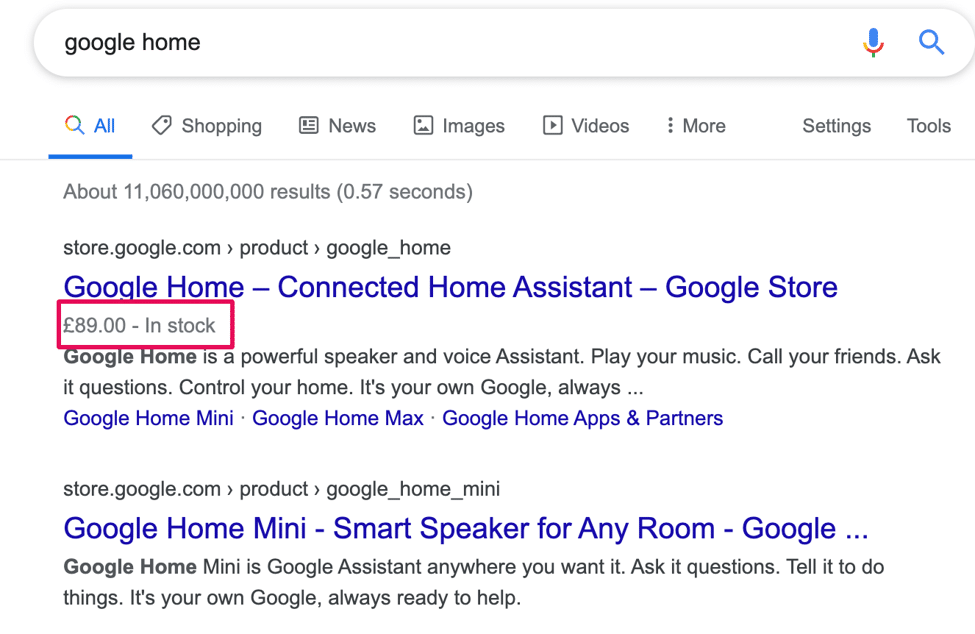 Image or Video – if you really want to stand out in the SERPs try including an image or video of your product.
Reviews and ratings – these are a form of social proof that helps build trust with your business. Note: recently Google decided to make Review Rich Results more helpful and for the LocalBusiness and Organization types, it is no longer possible to add self-serving reviews to your site but of course, other types of content Google still accepts review structured data.
This article mainly looks at 'search intent' from an SEO point of view but very often paid ads (PPC) are used because they promise high ROI values. After all, if the user is looking for a specific type of product to buy, a sponsored ad is just as likely as an organic result to deliver what they need.
I personally use PPC campaigns to identify which transactional keywords result in conversions the most so I can then include them in the copy. This step also helps me focus on the web pages that generate the highest revenue.
Navigational Intent
I'm going to be honest with you and tell you straight away that navigational search queries are not the most exciting queries.
It is very unlikely that you will succeed in converting someone who's using navigational keywords. Or in other words, you can't hope to rank for navigational queries unless you own the website the user is looking for.
Saying that you should be the sole owner of your brand's navigational query. You should aim to own every listing on the first result page – sponsored and organic – and take as much real estate as possible for your brand navigational search query. Note: don't forget social media.
A good approach to optimizing for navigational intent is to build pages based on:
Brand + service
Brand + product
Brand + sale
Similar to optimizing for transactional intent is to consider supplementing your organic SEO with paid listings so you increase the chances of getting people to click through to your site.
This is very important if you have competitors bidding on your brand or other navigational searches. On the flip side, consider using the same strategy to try to capture some of the navigational search traffic to your competitors by bidding on their brand names if you can offer compelling alternative products or services.
Conclusion
Writing content that fits both the terms people are searching for, as well as the search intent of your audience is paramount for your online business success. When it comes to optimizing for the search intent the process goes beyond keywords or even high-quality content.
I may even argue that high-quality content for the sake of having high-quality content is useless. What good is an SEO provider if it does not deliver the right kind of answers to YOUR specific audience, right?
For many years, SEO has been sold as the "magic ingredient" to a digital marketing strategy in order for websites to be successful. However, with increased competition and Google significantly improving their algorithms, it has become more complicated.
If you are serious about having a successful online business that generates consistent revenue, then optimizing for the search intent is something you cannot afford to ignore.
If you liked this article, try this by SEO guru, David Harry and Auditing Your Website for SEO