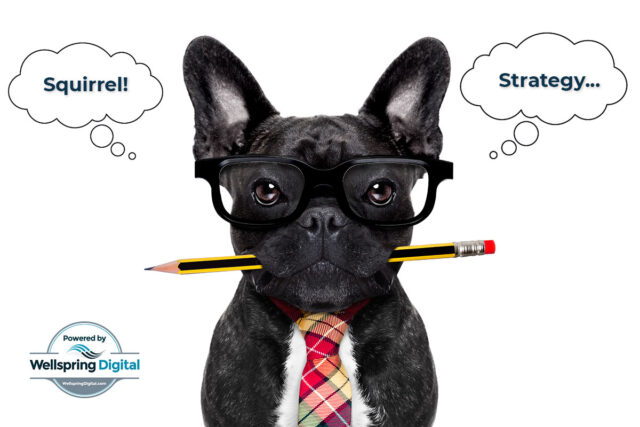 I've been thinking a lot about strategy lately (well, in between distractions that is). What does that word really mean? Is a digital marketing strategy a piece of paper with a 6-month, 1-year, or 5-year plan mapped out on it?
I believe it's more nuanced than that for a few specific reasons…
It's much harder to plan too far ahead in this fast-moving, ever-changing economy (pandemic much?).
Customers' wants, needs, and concerns change and evolve.
Technology is always changing, making it difficult to plan on one or even several platforms too far into the future.
To me, strategy is a conversation that starts with a series of questions you must ask on a regular basis…
Who are you marketing to?
What do they want, need, and expect from you?
How are you different from your competition?
What are your digital marketing goals?
How can you achieve those goals?
Who Are You Marketing To?
Digital marketing isn't advertising, although that could be a part of it. Marketing is a conversation you're having with potential clients, current clients, or just potential supporters/fans.
Ann Handley, the queen of content and one of my very favorite people, once told me that good marketing is marketing your clients would thank you for.
That's a new concept for many businesses just looking to improve their bottom line, but this is how the world works today, especially with the younger generations.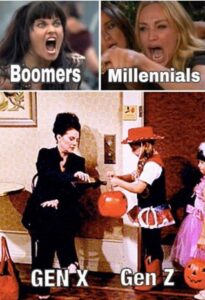 No millennials were harmed in the making of the above meme.
But seriously, people expect more from companies today. They want to be heard and understood, even when they're being marketed and sold to.
The best way to know your audience is to talk to them. Ask them what they're looking for from a company like yours. I would even recommend developing some buyer personas if you have the time and resources to do this correctly.
I'm not talking about caricatures that you make up based on demographics and some assumptions about your clients. I'm talking about real people. Interview some clients, ask them questions, and pay close attention to the answers.
For more on the power of actual buyer personas, check out our interview with Buyer Persona Institute founder and friend, Adele Revella.
What Does Your Target Audience Want from You?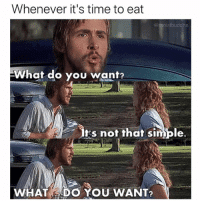 This is where a lot of digital marketing efforts fall flat. You've either assumed you know what they want and run with it, or you force something on them and it backfires.
I'm not saying that you can't use tactics like retargeting (although with the death of cookies, that could be on its way out), landing pages, or ads. Just make sure you do these in such a way that the end goal is tied to something your target audience truly wants.
You'll gain some powerful insight into the needs of your audience during your interviews mentioned in the previous section. Use these audience needs to inform your strategy.
Do they want more content from you? What kind of content? Video, written, graphical, a combination?
What sort of purchasing process did they describe? Is this something you can offer them? How might this differ from the competition? Also, how will they look for you and/or how did they find you? What words and methods did they use?
This information will show you how you should communicate with your audience…
Blog posts, interviews, how-to videos, infographics, etc.
Sharing on social media, ranking in SERPs for certain words and phrases, chatbots, etc.
Email newsletters, webinars, eBooks, white papers, etc.
But don't stop there. Part of your competitive strategy is figuring out how to differentiate yourself from your competition beyond your sales efforts.
How Are You Different from Your Competition?
Even with all that information from your audience interviews, you still run the risk of doing exactly what your competition is doing. If you've never heard of the red ocean / blue ocean concept, it goes something like this…
The red ocean is where all of your competitors are. It's crowded, bloody, and dangerous. You won't have much luck getting found in that ocean.
A blue ocean is what you're looking for. This is an ocean with lots of clean water, tons to eat, and room to grow and thrive. But how do you find this ocean?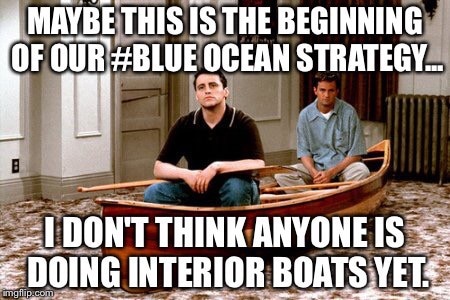 Core Values Should Drive Strategy
When people ask you what sets your company apart, what do you say? Do you spout off a bunch of corporate-speak that any of your competitors could have said?
I believe that how you speak about your organization is just as important as what tactics and channels you use to deliver that message. In fact, I think it matters more.
In one of my first blog posts for Wellspring Digital, I outlined an exercise that any business would find useful. You need to determine your core values because everything builds from there.
Your core values will inform how you speak about your company to potential clients and the public at large. The channels come next.
Get Cozy with The PESO Model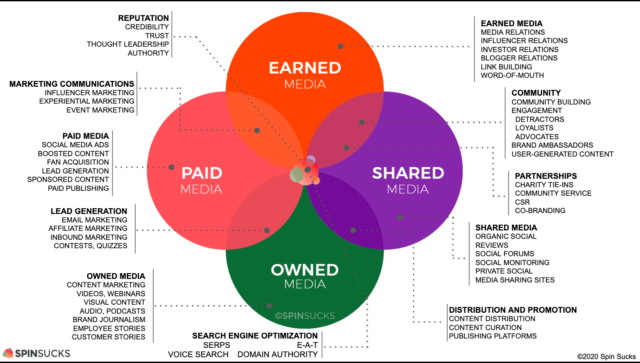 My friend Gini Dietrich and the fine folks over at Spin Sucks developed "The PESO Model." PESO stands for…
Paid media (stuff you pay for) – sponsored posts, Google Ads, OTT, YouTube ads, etc.
Earned media (this is the good stuff) – press coverage, blog mentions/links, shout-outs in rap songs, etc.
Shared media – things like influencer marketing, social media shares, partner content, etc.
Owned media – blog posts, videos, guest posts on your site, podcasts, eBooks, etc.
I am horribly over-simplifying this concept. For more on PESO, spend some time over on Gini's site, Spin Sucks. It will not be wasted time, I promise! Also, send Gini some Butterfingers and you'll be friends for life!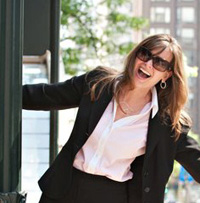 Anyway, so now you're slightly familiar with the PESO model, look back at the information you've gained from your audience interviews and compare that to your core values.
How can you deliver what your audience wants while staying true to your core values? This is how you will differentiate yourself from your competition.
Determine how to exist within the PESO model such that you are swimming in a blue ocean. In other words, if you start with the channels, you will fail. Start with the buyer personas, core values, and key differentiators and then develop a channel strategy.
But it doesn't stop there. You have to determine your business goals.
What Are Your Digital Marketing Goals?
Notice that goals did not come first? If we're really talking about strategy here and not simply digital marketing tactics, then you shouldn't be talking about goals until you've completed the steps above.
Goals are very important, don't get me wrong. They just need to be the right goals.
Now here is where you should do a SMART (Specific, Measurable, Achievable, Relevant, and Time-based) Goals exercise, which is never a bad idea. Just make sure that each of those goals is also tied to the audience's needs and your core values.
Your goals could be number-based, like a 10% increase in sales of Product A, a 10% uptick in traffic for a specific keyword, or 1,000 new email subscribers.
Or it could be more nebulous like "increased brand awareness" or building your E-A-T value, which is harder to measure.
Once you've identified your goals, you can then start to form your tactical digital marketing strategy…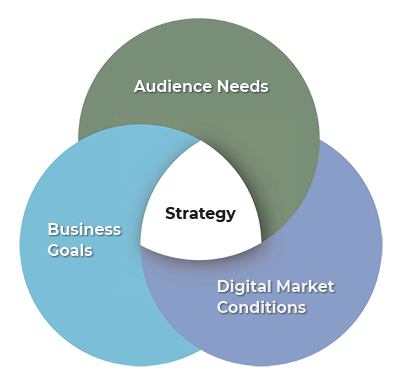 How Can You Achieve Your Digital Marketing Goals?
Finally, tactics! Only until you've done the steps outlined above should you be talking about tactics you want to employ. You want to be making strategic decisions while developing your tactical plan.
These tactics can include but certainly aren't limited to…
SEO
PPC
Content and Social Media Marketing
Marketing Automation
Website Design, Development, and Optimization (for speed and usability)
Influencer Marketing
Reputation Management and Sentiment Analysis
Let's break each one down as they might relate to strategy…
SEO Strategy
An SEO strategy can be about traffic, leads, positioning, brand awareness, and more. The first step to any SEO campaign is to assess what you have and what you need. This generally comes in the shape of an SEO audit that looks at…
What is the state of your website? Does it have UX issues? How fast or slow is it? (more on this below) Is it optimized? Correctly?
Have you set up a Google My Business and optimized it (Local SEO)? Are you posting to it regularly?
What does your backlink profile look like? Are there bad links that need to be disavowed? Do you need more quality backlinks?
What is the competition doing or not doing?
Where are you looking to rank for both geographically and in the SERPs (search engine results pages)?
What keywords are you ranking and not ranking for? Are there keyword opportunities you can capitalize on? What keywords are a waste of time?
There is more to it than this, but you get the picture. What do you have? How well is it performing? What do you need?
PPC Strategy
A PPC strategy can also be about traffic, leads, positioning, brand awareness, and more.
When I say PPC (pay-per-click), I mean any type of paid outreach. This could be bidding on keywords in Google or Bing. It could be sponsored posts and ads on social media. Or maybe you want to run ads on specific YouTube content or do some OTT ads.
As with SEO, the first step to any PPC campaign is to assess what you have and what you need. This generally comes in the shape of a PPC audit, if you have an active campaign, that looks at…
What is the state of your campaign? Is it optimized? Is it leading to conversions?

Are you bidding on the right keywords and phrases?

What is the competition doing or not doing?

What is the purpose of your campaign? Brand awareness or leads?

Are there opportunities you might be missing?
Are you getting decent ROI?
A successful PPC campaign is one where you can show that you are getting more out of it than you put in. PPC is not a replacement for SEO though, it is an augmentation, a way to boost in areas where organic rankings and social reach are not enough on their own.
Content and Social Media Marketing Strategy
A content marketing strategy can be about leads but more often than not, it's about reach.
Content marketing (which technically includes organic social media marketing) is the practice of creating useful content specifically for your target audience and sharing it with them where they are.
This could be anything from content that entertains to content that informs and empowers.
The first step to any content marketing campaign is to assess what you have and what you need (you're probably seeing a pattern here). This generally comes in the shape of a content marketing audit, that looks at…
What content do you have out there in the wild? Is it still good, relevant, or tied to your goals?

What about the content you've developed but have not used yet? Can it be used? What does it need to be post-worthy (relevant, timely, tied to goals, targeting your audience)?
Is there content you need to create? Do you have an editorial calendar? Is it tied to your goals?
Who will create this? Do you need outside help?
I wrote this post a while back about doing an in-house content audit. This content is older, but it is still relevant, and I think you (a member of my target audience) will find it useful. 🙂
It's never a bad idea to have an outside expert take a look at your content marketing efforts. You'll find it useful to get an outside perspective that isn't skewed by internal politics or misaligned agendas.
Marketing Automation Strategy
Marketing automation is a powerful solution that can take your sales and marketing efforts to the next level. Platforms like HubSpot, Marketo, Pardot, and others can make a small team operate like a larger one and give you never-before-seen views of your prospects.
That said, the strategy for this one is simple. Get an expert. No, seriously, I'm not going to pretend to outline a simple strategy overview for marketing automation because…
Marketing automation should be the backbone of your entire digital marketing effort.
Marketing automation software is difficult to wrangle if you've not spent much time working with it.
These platforms are rarely cheap and can get very expensive.
If you are going to invest in marketing automation, make sure that either someone on your team is an expert or you have an expert to guide you along. If you don't, you will churn tons of hours trying to make it all work and potentially could end up misusing and/or underutilizing the platform.
A strategy for marketing automation is how to take all the disciplines above and some below and hook them into your marketing automation system. Then, develop a strategy that factors in all of the disciplines above and finds ways to automate them.
This overview post on marketing automation is a great place to start. And this post will help you be certain your automation efforts still have some soul.
Website Design, Development, and Optimization Strategy
Like others on this list, your website strategy starts with an audit…
Your website is a critical piece for all of your digital marketing efforts. It should perform well, be useful and pleasing to the eye for your target audience, rank well (see SEO above), and drive conversions.
Influencer Marketing Strategy
Influencer marketing can be a powerful digital marketing tool. It's like rocket fuel when done correctly. But it's rarely ever something you should start with.
Influencer marketing should come into play when you've done as much as you can with the other tactics and need more. It's not going to work well if you've neglected the other tactics above in favor of going straight to influencer marketing.
This post outlining how to get started with influencer marketing will help. And definitely check out our interview with Neal Schaffer who literally wrote the book on digital marketing.
Reputation Management and Sentiment Analysis Strategy
Now we're getting into the serious stuff.
Reputation Management Strategy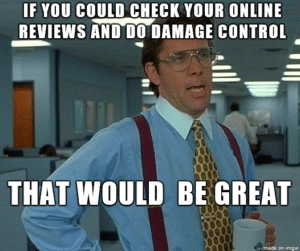 In essence, you should always be concerned with your reputation as it relates to branding, customer experience, and your status as a trusted resource.
There are plenty of tools out there to help with reputation management. But, similar to influencer marketing, you'll want to make sure you've done the work outlined in this post before engaging in any sort of software-enabled reputation management.
At the very least, someone should make sure to monitor your social channels for messages, mentions, and comments. Your company should always strive to provide a positive customer experience.
And make sure you're asking for and responding to reviews on your Google My Business page.
If you're ready to get into software-enabled reputation management, here's a good overview of the top reputation management software solutions available today.
Sentiment Analysis Strategy
Sentiment analysis is similar to reputation management. Basically, you would use a sentiment analysis tool to determine how a group of people feels about something.
Sentiment analysis is used to get ahead of certain trends or predicting potential pitfalls you want to avoid. Unlike reputation management, which is specifically looking at what people are saying to and about you, sentiment analysis looks at how people feel about something.
It could be how they feel about you, but it also could be how they feel about a trend or a type of product or service. Sentiment analysis monitors chatter on the web and analyzes it to determine what is next.
For example, sentiment analysis, on a scary big brother scale, could have been used to predict the events at the Capitol on January 6th by monitoring social channels for chatter and analyzing that data to determine potential outcomes.
Most businesses don't pursue a sentiment analysis strategy unless they've reached a certain size and reach. But it's there if you ever need it.
What Is Your Digital Marketing Strategy?
Well, there you have. I have started a conversation with you about strategy. I've given you some things to think about, some actions to take, and some pitfalls to avoid.
What do you think? Let me know in the comments section or @ us on social media. We'll be there!
If you find you need help with any or all of this, please contact us and let us know.