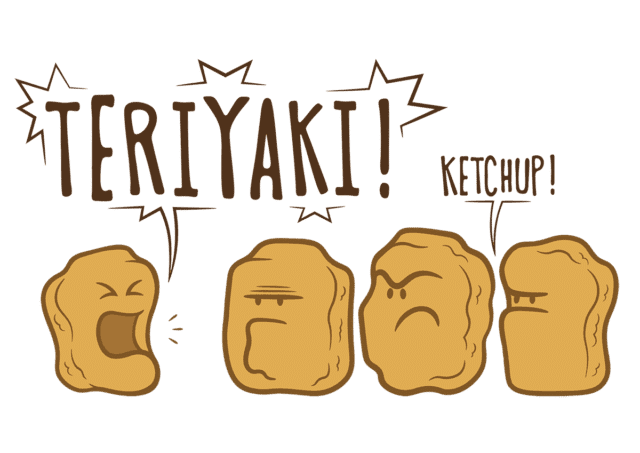 We've been hosting a podcast for over well over a year now called the Wellspring Digital Chat. I've been fortunate to talk to some of my favorite marketers, including but not limited to Ann Handley, Scott Stratten, David Meerman Scott, and Mark Schaefer.
I've been going back through some of these interviews looking for inspiration for future blog topics and I kept seeing these nuggets of wisdom from the transcripts that I really want to share.
So, that's what I am doing here, sharing some of my favorite and most compelling nuggets of wisdom from our Wellspring Digital Chat guests. These are the nuggets that I think you will find instant value in reading. There are too many to include in one post, so I am breaking this into a series.
In part one, we hear from these Wellspring Digital Chat alums…

Mathew Sweezey
Gini Dietrich
Ann Handley
I'll go in order of their appearance on the podcast. First up, Mathew…
Mathew Sweezey and Context Marketing
I spoke to Mathew in mid-2020 during the height of the pandemic. He had just published a book called The Context Revolution, which I highly recommend.
I've known Mathew a few years now from the speaking circuit and got to interview him live at a conference in DC a few years back. Mathew is, hands down, one of the smartest marketers (and people), I know. His insight is always spot on, so when Mathew speaks, I listen.
Here's my favorite piece from our interview…
So we must ask ourselves if our role is to create things that are trusted, why are we so distrusted as a profession? And so I think that's one of the Big things. The reason why is because the way that we've constructed this game that we play is that we force messages onto people and expect them to do whatever we set.

And as anyone that has children knows, that's a horrible methodology of how we get people to do things that we want them to do.

So the alternative is this idea that I write about called context marketing, which is essentially two steps:

One is the most core basic concept which is to focus on the goals that people have in specific moments and help them accomplish those goals in those moments, right.
And then the second is to apply that theory across an entire lifecycle of engagements.

So why this is radically different is one, we're looking at motivation, not in how do I create one thing that motivates you to do the thing I want you to do, but rather breaking the concept down and realizing that motivation is really a string of lots of moments. – Mathew Sweezey, Director of Market Strategy at Salesforce
Gini Dietrich and the PESO Model – A Communications Foundation
Gini is a good friend of mine and one of my most favorite marketers. I've interviewed Gini a couple of times and both were well worth.
Gini comes from a PR background. Since her early days in PR, she has built an agency and then a support system for communicators. Gini literally built a community for communicators based on the PESO Model.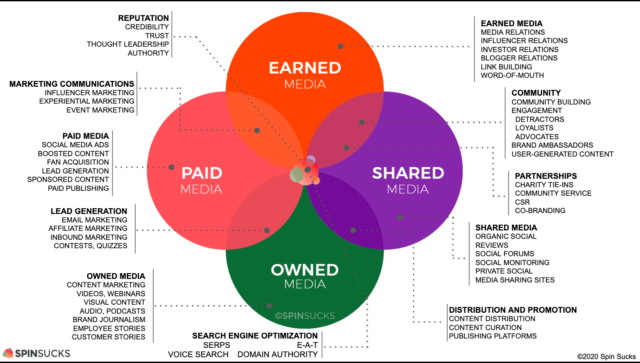 Mathew was talking to us about the importance of context marketing. The PESO model is what fuels those marketing efforts. I'll let Gini explain…
The PESO Foundation
So you have to build the foundation. And once you build the foundation, you see that there's some overlap. There's overlap between paid and earned, there's overlap between earned and owned, and so on. And in there you have things like email marketing, influencer relations, distribution and promotion, things like marketing communications.

Once you do all of that, and you have to have some of that overlap, you start to build authority. And authority means you have reputation, both online and off, you have first page Google search results. People are finding you just by clicking on their computer, you know, those kinds of things.

You also start to have competitors that recommend you and you start to build reputation outside of the online world, you do it offline too and in person. And so in there, you have search engine optimization, you have thought leadership, you have brand awareness, and you have authority.

That's where the magic starts to happen is because you've integrated all of this and they have started to overlap and you've built this really strong foundation, where you can build that authority and measure it. That's what the PESO model teaches you to do is how you take all of that and what that means and drill it down.

So that you are using analytics, you are using your marketing automation, and you are using your CRM. And the information from those three things combined will show you exactly how the work that you're doing is affecting the end goal.Gini Dietrich, Founder and CEO at Spin Sucks
Instead of dabbling in this and that, Gini is saying you need a solid foundation, one that you can build on, and one that you can measure accurately. Excellent advice, but that doesn't mean it's easy.
Building a solid PESO foundation takes time, money, and a team of skilled marketers, whether in-house or outsourced team. For more on PR, influencer marketing, and PESO, check out my talk with Gini here.
Ann Handley and the Importance of Empathy in Marketing
But having that foundation and engaging in context marketing isn't always going to work. Why? If you're not truly connecting with your audience, all the content in the world won't make a difference.
Part of what Mathew and Gini are talking about is making content that matters to the audience. Digital marketing that goes beyond keywords and vanity metrics. Marketing that matters.
Here's Ann's take on this…
Empathy in Marketing
I think empathy gets shortchanged sometimes because we think of it as something that you either have or you don't, but I actually think of it as more of a practice. Empathy in terms of a business or a marketing context is essentially putting the needs and the wants and desires in the heart of your customer front and center in marketing.

We talk a lot about putting the customer at the center of your marketing, customer-centric marketing. But I don't think it's effective unless you really go beyond just thinking about the customer and peering inside of them a little bit, walking around in their shoes a little bit, and trying to understand how is it that we fit into the context of their lives.

Empathy does not mean sympathy. It doesn't mean that you feel what they feel. Instead, it just means that you think about how your messaging will land with a customer. What would be my response? Try to put yourself in the customers shoes. It's very much what I do in writing. I write what I want to write, you know, I have something I want to say. So I say it, but then I always go back to it.

And in the editing phase, I talked about swapping places with the reader, thinking about things from the readers point of view. And I think that exercise is the exact same exercise that we need to do as marketers in marketing. Whether you are a massive tech B2B company, a hospital, it doesn't matter. Whether you're a small business or sole proprietor, it applies across the board.

It's incumbent on us to take it to the next step and say, "Okay, we're excited about this. So why does it matter to somebody else?"

You know, I talked about going through that "so what" exercise. Well, you know, "so what, why should somebody care?" I think so much of our marketing and so much of our world, honestly would be so much better if we just went to that. – Ann Handley, CCO at MarketingProfs and Author of Everybody Writes
Amen, Ann!
Context, Foundation, and Empathy
These three marketers are making excellent arguments for better marketing. Take some time to think about the "so, what" of your marketing efforts. Take that so what and build on it making sure that it fits into the contextual existence of your client's everyday lives.
Then, build on that by building your PESO foundation to make sure that your marketing takes advantage of paid, earned, shared, and owned media opportunities.
This is what a smart digital marketing strategy looks like. This is today's marketing landscape.