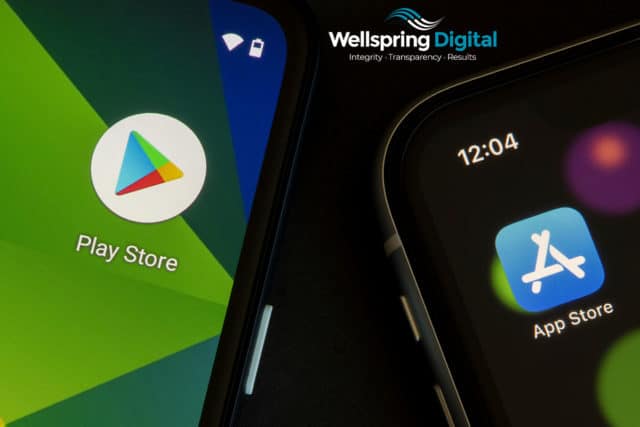 What do we use our smartphones for? If you ask me, it's anything but talking. Talking on a phone feels like a truly ridiculous idea in 2022. Who would ever do that?
Anyway, what we all do is use apps. Tons and tons of apps. In 2021, users downloaded them about 230 billion times. And given that there are more than 4.8 million apps in Google and Apple stores combined, some tough choices are involved here.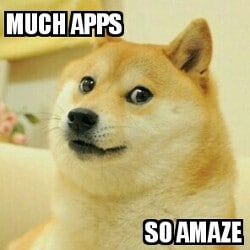 So, how do those billions of mobile device users actually decide which app to download? That's where app store optimization comes into play.
App Store Optimization in a Nutshell
ASO, or app store optimization, is the process of improving the visibility of a mobile app. It involves optimizing the app store page to make it stand out from thousands of competitors.
Stuffing relevant keywords into your app name and descriptions won't do the trick. ASO is much more complex than that.
When successfully applied, ASO may improve such metrics as:
App discoverability and downloads
App conversions and revenue
Rating and reviews
To get a full understanding of app store optimization, we need to learn how app stores work.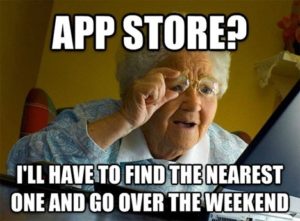 App Store Ranking Factors
From the end user's point of view, any app store, including Apple's and Google's, is basically a search engine that searches apps. And as with any search engine, it ranks the results using an algorithm.
For example, if you are looking for a photo editing app, the result may change drastically depending on the keywords you use: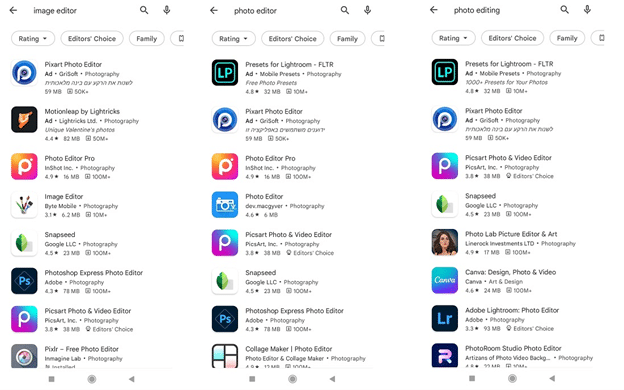 There is a bunch of ranking factors, some of which are not disclosed. But the most important ones are well-known and universal for all stores. They include:
App name, URL, and descriptions
Number of app downloads
App rating and reviews
Number of in-app transactions
Engagement (user retention and churn)
App update cycle (how often the app itself and its store page are updated)
Of course, there are some platform-specific ranking factors, such as the number of backlinks leading to your app store page for Google, and a proper app store optimization agency like ours knows them all!
What Makes a Successful App?
Believe it or not, the main ingredient of ASO is the app itself. All app-store optimization efforts will count for nothing unless you have a great product.
Is your app unique?
Is it a helpful app?
Does it look and feel great?
Does it provide a seamless user experience?
If the answer to any of these questions is "No", you've got your work cut out for you. You cannot cheat people into using a low-quality app. You must deliver a quality user experience before even trying to promote your application.
How ASO Is Done
Let's say you already have an app that you think may become the next big thing. Now you need people to learn about it. Here is where the ASO process starts.
Analysis
Before using the whole variety of mobile app optimization techniques, start with a thorough analysis of the market. Here are some of the questions you should answer to create an app store optimization strategy:
Who is the target audience of your app?
What problem does your app help to solve?
Who are your competitors and which best practices do they use to promote themselves?
Which killer features make your app different from the competition?
Keyword Research
Knowing all the answers, you can start researching keywords that your potential users will use to look for an app like yours. The list should not be too long since the length of the app title and descriptions is limited.
Text Optimization
To get the most out of ASO, you should place the keywords in the app title and descriptions, and in the app store page URL. As in SEO, all the text must be optimized for the readers first.
Simply stuffing keywords won't work and may harm your app's chances for high rankings.
Visual Optimization
Text is only one of the factors affecting a user's decision to install your app. Sometimes visuals are even more important. You have to make sure that the app icon, screenshots, and video are engaging and clearly show the app's advantages.
Localization
Want your app to go global? Then you must optimize it for different markets. And no, Google Translate won't do the trick. You have to understand your potential audience in each local market and change the look of your app store page accordingly.
Experiment
ASO never stops. It's similar to SEO in this regard. In such a highly competitive environment, constant improvement is the key to success.
A/B testing plays a crucial role in this process. For example, by comparing the audience's reaction to different screenshots on your app's store page you can make informed decisions and improve the conversions.
Analysis (What, Again?)
Market intelligence cannot be neglected. Keeping an eye on your competitors' ASO efforts is vital if you don't want to find yourself sidetracked. How can it be done, you ask? Of course, with the help of…
ASO Tools
There are plenty of app store optimization tools on the market. Some of them are basic app ranking trackers, and others offer a much wider variety of features.
Such tools may be pricey, so choose wisely – or just hire professionals who already have access to the best of them.
However, if you prefer the hands-on approach or just want to test out their free plans, here are a few ASO tools that may be of help:
App Radar offers a keyword research tool and other useful features such as Apple search ads intelligence and an app rating tracker. They offer a free plan with up to 20 keywords that you can track.
AppFollow provides you with app analytics insights and helps to manage reviews. Their free plan allows you to track 2 apps and up to 10 competitors.
SplitMetrics is your go-to tool when it comes to app A/B testing. However, they do not offer a free plan and their pricing may be too steep for smaller clients.
The Bottom Line
If you want your ASO efforts to be successful, remember to follow these rules:
Have a great app
Know your audience
Use the right tools
Constantly improve your app and its store page
Track and analyze your competitors as well as your own app
If you haven't invested in app store optimization yet, the time is now. Your competitors are surely doing it.
Wellspring Digital's ASO team is ready to help, so don't hesitate to reach out and learn more about our ASO services!