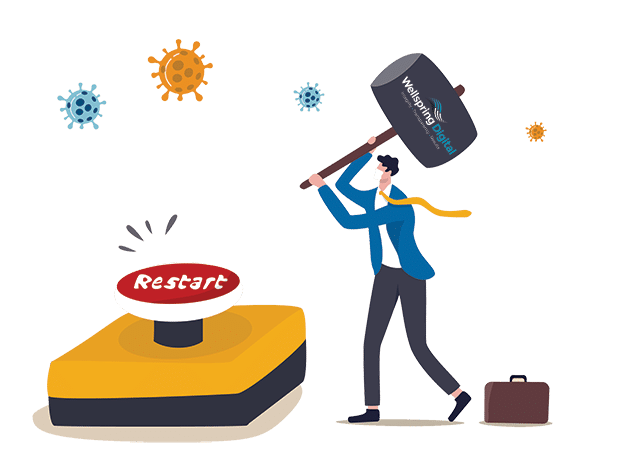 2020 was some year, huh? I'm certain that everyone has at least one tragic story to tell, maybe a relative who got sick, or a friend who lost a job or had to shutter a business. It's been tough for many of us.
Your customers are looking at everything through a different lens now. I was talking to Jay Baer about this and he spoke about the "COVID reset." Jay said, "every business now, whether you've been in business for 2 years, or 20 years, or 200 years, has to function like a startup."
The premise of this is simple, your clients are living in a completely different world now, everything has changed. Your job is to act accordingly…
I don't know about you but if I hear the word "pivot" one more time, I'm gonna lose it. Yes, we've had to pivot, quite a bit. But, to me, a pivot is a course correction. Reset seems like a more appropriate word. You have to rethink everything.
So, with that in mind, we've put together a few tips for you to follow so you're certain you've reset your marketing strategies to stay in line with where your target audience is now.
Digital Marketing Reset Checklist…
Do your SEO efforts still work/make sense?
Are you getting quality and relevant reviews post-reset?
Is your Google My Business up to date?
Do your content and social media marketing efforts align with your audience's needs?
Let's go through each of these.
Do Your SEO Efforts Still Make Sense?
You may have had some real success with your SEO efforts prior to the pandemic, but is that course still the right one? And even more importantly, will it be for the foreseeable future?
As SEO badass Lily Ray spoke about in our interview, lots of relied upon search results went poof because of COVID! See, Google had to "pivot" too. Sorry.
Google immediately realized its search results would likely not be relevant anymore, not during this pandemic.
For example, non-governmental or "official" health resource websites (think WebMD.com) lost their rankings almost overnight. What took their place are more vetted websites like the CDC, WHO, and Johns Hopkins.
A Reset Is a Good Excuse to Reassess Your SEO Efforts
Now is as good a time as any to take a hard look at what your SEO team is up to…
Are you still looking at the same competitors or have some shuttered or shifted focus?
Is your business still focusing on the same geographical target?
Do the keywords you're targeting still make sense?
Are your content efforts still in alignment with your SEO goals?
Your SEO team should be able to ascertain whether you've lost rankings, what keywords you are currently ranking for, and where you are in relation to your competition.
If they can't, find a new team. Seriously.
Are Your Google Reviews Still Relevant?
Think about it (and Jay really sums this up well in his interview), are you going to take a review seriously if it was given BC (before COVID)? Everything has changed.
Your future customers want to know that you can still provide quality. They also want to know that you understand and can operate within this new reality, safely.
Again, it's as is you've just started out. You need to think like a start-up. What does a start-up need to show they offer value to potential customers? They need credibility. They need to show they can be trusted.
Reviews will help with this. It's time to develop a new review strategy. Find ways where you can legitimately and honestly encourage (not buy) reviews from your customers.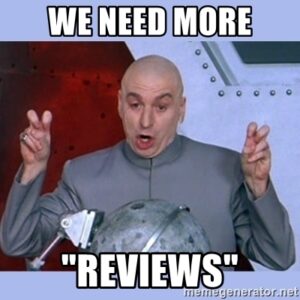 Remember, don't ask them for a great review or to say nice things. Simply find ways to ask them to leave you a review and leave it there.
And remember to reply to reviews on your Google My Business as much as possible. Speaking of which…
Is Your Google My Business (GMB) Up to Date?
This one is crucial. This is like a yellow page ad times a 1,000. Really a terrible comparison. They can't all be gems.
Anyway, this is where your customers will see you for the first time if they're coming in cold, and where they'll go to find answers if they know you already.
Your GMB listing on a desktop will look something like this if you have it claimed…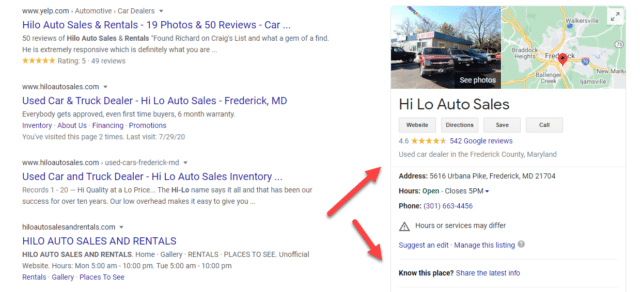 On mobile, it will be all the user sees far above any listings…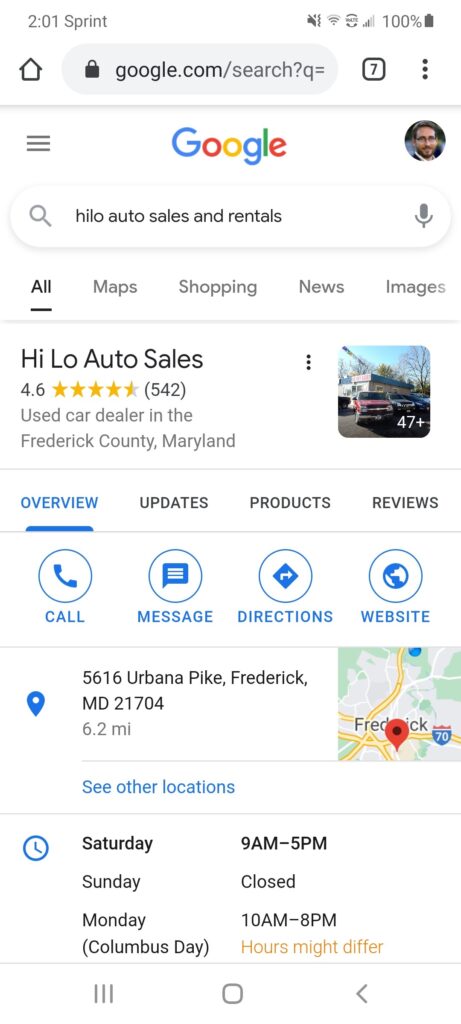 So, as you can see, GMB is crucial. It's even more crucial now because your potential customers have questions…
Are you open? When?
How can someone contact you?
Where are you?
What do you do/sell/offer?
Are there images of what you sell?
What does your location look like?
Do you have satisfied customers?
How are you operating during the pandemic? Is it safe?
All of the answers to these questions and more can live in one nice neat package, your GMB. In this time of reset, be certain you've done the following…
Claimed your Google My Business listing
Updated all contact info and hours of operation
Post information about how you are operating safely during the pandemic (you better be operating safely or people will not come)
Add images and posts
Encourage customers to leave reviews (see above)
Stay on top of it making sure your information is always correct
It might sound like another tedious task you think you don't have time for, but I beg you, make the time. It's that important. 9 times out of 10 this is your first impression.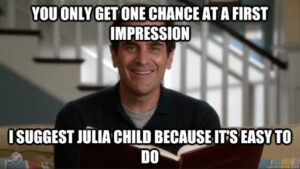 Check out this post from our very own Ariana Gross for more detailed info on GMB. And, of course, watch the Tim Capper interview. He's a GMB beast!
Align Your Content and Social Media Marketing with Audience Needs
You have to keep reminding yourself that all bets are off, the old playbooks no longer work. I recently did an interview with Adele Revella, the woman who literally wrote the book on Buyer Personas.
We spoke about this reset and the need to reach out to your customers, see how they're doing, what their concerns are, and how you might be of service.
While discussing this pandemic/recession/dumpster fire, Adele is constantly reminding her customers and readers that "this is absolutely the time to know what your buyers want…"
She also reminds us that this is not the time to market "to 'Mary with two dogs and a cat' kind of person. Do not do that." You are marketing to real people. Talk to them, listen to their concerns. Gain a true understanding of how their lives look now and where you fit in it.
Now through that lens of empathy, organize and execute a content and social media strategy that meets them where they need you.
Your Customers and Future Customers Are Watching
I'm not a big math guy. I play numbers games with certain efforts, of course, but there's more to success than crunching the data. You have to be the best company you can be right now. It's what people expect.
This isn't about politics or some new-age touchy-feely thing. This is about the customer experience. A huge part of that customer experience, especially as we are all stuck at home, is how you communicate with your customers.
I'm talking about empathy. During this pandemic, empathy has been a consistent topic in every interview I've done for the Wellspring Digital Chats.
Empathy is not the same thing as sympathy. Empathy is walking a mile in their shoes.
What Kind of Conversations Are You Having?
Let's break it down this way. Think about meeting a person for the very first time. Maybe there are some awkward moments and polite conversation. Nothing deep going on there (unless you're one of those weirdos who try to psychoanalyze someone the first time you meet them, STOP THAT!).
Now, think about a conversation with someone you've known well for 20 years. This is a completely different conversation. This is the conversation you need to be having with your customers through your content and social media marketing.
Gather your content and social teams, identify a good cross-section of customers, and call them. See how they're doing. Ask them about their new reality. Tell them you want to offer them content and social media posts that help and ask them what that might look like.
Most importantly, listen! This is your editorial calendar. This post on finding content inspiration might help as well.
If you are a small business and don't have this team, take some time throughout your day (or whoever talks to customers) and just ask questions and listen.
Now Is the Time for Action!
Look, I get it. We're living in scary times. I mean the Buffalo Bills are 4-0 for goodness sake!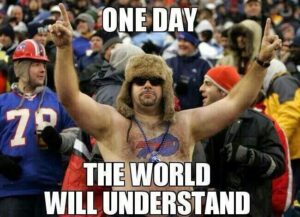 It's today, buddy, it is today.
Just like Bills fans, we are all having to get used to bad news. But, also like Bills fans (like my lovely wife and her whole crazy family), we have to dig deep and believe that we can win. It takes hard work and dogged determination…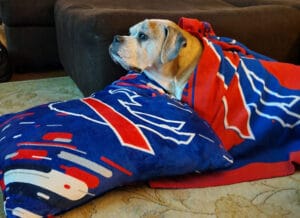 Now is the time to take action, to be more proactive with your marketing efforts than you've ever been in the past. You not only have to believe that you can come out of this ok, but you also have to make it happen!
Follow the steps outlined in this post and you will have a much better chance!
How can we help? Let us know! You can always call me, I may not always answer but I will get back to you. 🙂 301.304.9349