Any business can benefit from an engaging social media presence, whether you're a small local shop or a large national or international company. Getting started with social media marketing is easier than it seems.
Ask yourself the following questions about your business to get started on the right platform(s) and with the right content to reach your ideal goals.
Do I really need social media for my business?
There are currently 3.5 billion social media users, or about 45% of the population, according to Oberlo, and social media usage around the world is only going to increase. The simplicity in communication between users and businesses means there are more sales taking place through social media outlets and online.
Social media marketing can help your business reach a larger audience faster than other marketing strategies, like television advertisements and billboards. Social media offers endless possibilities to help your business.
Active social media accounts using paid ads, organic posts, or blog promotion will help increase brand awareness and reach for your business.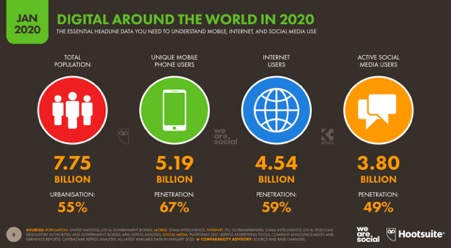 What should I post on my social channels?
Posting on social media is what keeps you connected to current brand supporters and expands reach to new and potential customers. Your content should be relevant to your brand.
For example, if you sell craft supplies, it would be more relevant to post about a new sewing machine than it would be to post about a vacuum cleaner. Obvious right?
However, you want to avoid posting too much promotional content. Encourage your followers and supporters to interact with your social media channels by asking questions, sharing photos, or simply asking what content they want to see from your brand.
Use your channel as a way to be a resource for your clients in there time of need. The rule of thumb is usually somewhere like 70/30 – 70% other people's content and 30% your own. Your channel should be the go-to resource for help, facts, tips, articles, you name it, in your industry.
That 30% should also include links to useful blog posts on your website. This is called content marketing. There's a right way and a wrong way to do this. Take a look at this post to get started with creating great content for your clients.
What social media platforms should I be on?
Your brand and target audience will dictate which platform or platforms to post upon. The most popular platforms are…
Facebook-Tends to be older audience; 72% of men and women age 50-64 are on Facebook according to AdWeek
Twitter-38% of Twitter users are men and women age 18-29 according to SproutSocial
Instagram-72% of Instagram users are age 13-17; 35% of US teens rate Instagram as their favorite platform
LinkedIn-Professional and networking platform; 51% of LinkedIn users have at least a college degree; 37% of users are age 30-49
Reposting the same content across multiple platforms allows for network integration, or using all of your social media platforms to promote content, and allows users to interact with the content on their preferred platform.
Defining goals for your social media marketing campaign will help determine which platforms you should focus on. For example, your target audience and demographic could skew older and lead you to focus on Facebook, or you're targeting the largely female audience on Pinterest.
A consistent presence on a variety of social platforms will also improve your business's customer service. Be there on the platforms your clients use so customers can reach out with complaints, questions, or concerns.
Social media is also a great way to identify potential customers in demographics similar to your best customers.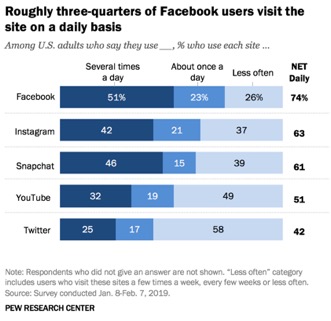 An easy way to find out which platforms your target audience use is to ask some of your best customers where they spend their time. Spend time on those platforms engaging with people to see if it makes sense for your business to be there.
How do I measure ROI in social media?
Tracking conversions and measuring ROI on social media can be frustrating for business owners. However, there are a few measurable aspects of your marketing campaigns that can help you learn the value, if any, of what you are sharing on social media.
Comparing your success with competitors through analytics, such as engagement and followers can help you see where your business stands in your target market.
Set a measurable goal, such as…
More followers
Higher engagement rate
Faster response time
More purchases, sign-ups, downloads
More website traffic
Monitor these aspects of your social media campaigns to track where you struggle and where you succeed.
Google Analytics is a great way to track website traffic and monitor conversions attributed to your social media campaigns. Social media platforms, such as Twitter and Facebook, offer their own analytics tools that provide information like engagement per post, clicks on each post, impression, reach, and audience demographics.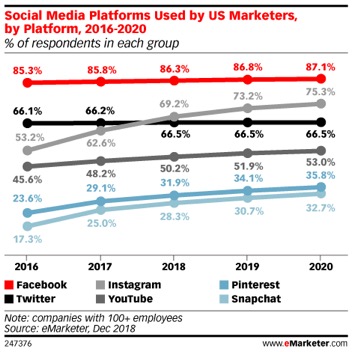 What is the difference between an ad and a post on social media?
Organic and paid social media both have their place in a marketing campaign. Anything that happens on social media without paid promotion is organic. Posts, shares, comments, likes, or messages are easy ways to track your organic social media efforts.
Paid social media is influenced by advertising dollars spent. If a social media post says "Sponsored", this means any reaction to it is considered a paid reaction. Paid social media includes boosted posts, ads optimized for clicks, lead generation forms, and video ads.
A successful social media marketing strategy is one that utilizes both organic and paid social media. A mix of both organic and paid ensures a larger reach and following.
If you are ready to take the next step for your business and create an engaging social media presence, let Wellspring Digital help.
Our team knows exactly what it takes to establish and maintain your business presence on the most popular platforms to extend the reach and engagement with your brand. More importantly, we know how to get results and deliver ROI for each customer we work with.
Request a free consultation online or call any of our office locations for more information; for Fairfield, PA, call 717-457-0522; Frederick, MD, call 240-650-9996; Gettysburg, PA, call 717-457-0706.