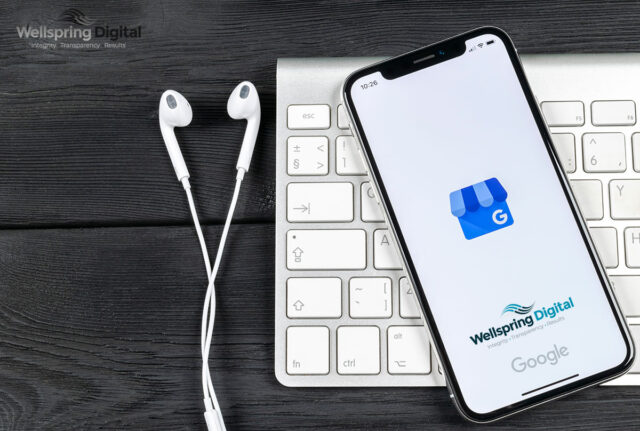 Imagine this: you're craving Chinese really bad. Thankfully for you, your friend knows the perfect place: a Chinese takeout place that opened up downtown! Unthankfully for you, they don't know where it's located, the prices, or any of it.
So they use the golden phrase, "Google it." When you do google it, you find that everything you need appears neatly in front of you in a box. You can get directions, the number is there, business hours, and more.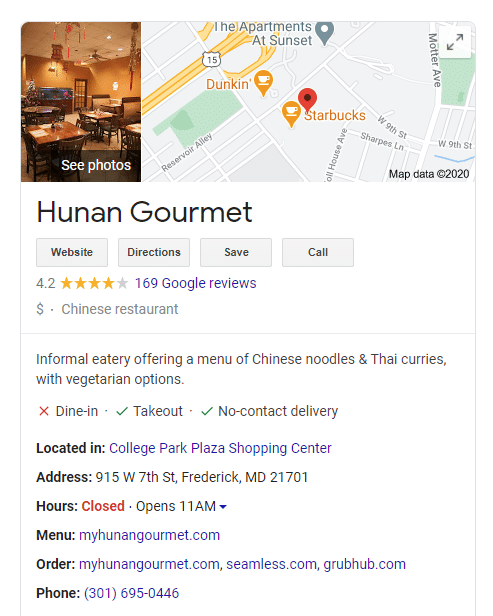 That nifty box is called Google My Business, and as a business owner, are you using it to your advantage?
GMB Is The Easiest Way to Own a Search!
GMB is a free tool that allows businesses to reach the masses and up their online presence. Your business can utilize this tool to ensure the information below will right in the Google Search Engine Results Page or SERP…
Phone number
Hours
Reviews
Images
Links
Here's the problem. Businesses either assume that Google will manage this for you, they won't. Many times the information is wrong or has changed.
Do you have a new phone number? You better update it on GMB. Do you have new hours for the holidays coming up or in, let's say, a pandemic? Update it on GMB!
There is nothing more irritating than having a craving, searching for something near you, seeing the hours, and then getting there and they are CLOSED!
Don't Neglect Your GMB!
Your GMB is the easiest way to let people know what is going on with your business, immediately in their search. It's also the quickest way to present the absolute wrong information to someone looking for you.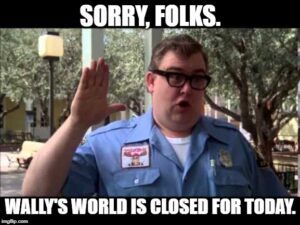 Imagine the heartache and money Clark W. Griswold could have saved if Wally World had an up-to-date Google My Business. If you do not get that reference, I weep for our future.
Let's not forget our current situation with the pandemic. I mean, how can we??? Anyway, your GMB is a great place to show how you are handling safety in these scary times.
Some restaurants will post in their GMB (like the one above) that they offer contactless delivery. Businesses may post that an appointment is now required to visit their location. No pop-ins right now.
So, we know an up-to-date and informative Google My Business listing is important. Now, let's look at how to make this happen…
Claiming Your GMB
Once you claim your GMB, you can add all the information that you need to… the more the better. Google is using verified information to show to the masses, so if you aren't adding that information, what are your potential customers seeing? More so what are your competitors doing?
So how can you create and/or claim your GMB?
Click on the My Business widget in the drop-down on your Google options, then search for your business to find out if you need to claim or create it.
Google will send out a postcard in the mail to your physical location to make sure what you're claiming is real and legit. You cannot use a home address or PO Box. The postcard will look something like this…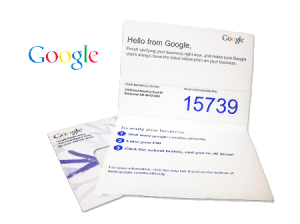 This should take around 5 business days and it proves to Google that you are a legitimate business location. These codes will expire so make sure everyone is on the lookout for this postcard and the code gets entered immediately.
This part is extremely important because your GMB will not go live until this verification. Once you receive and enter the code, you're ready to start optimizing!
Optimizing Your GMB
Your Google My Business listing is a must for local SEO efforts. It helps to create specifics for Google's database about businesses like yours that are relevant to certain search terms or keywords.
Map Pin
Once your information is gathered by Google, a Map pin will be created, and now you are easier to find. Make certain that the pin is placed accurately. This is a common issue where Google places the pin but the entrance is somewhere else. More confusion.
Also, make certain to upload quality images of your location. Tim Capper has some great advice on this in our recent interview with him.
Input all the information that you can, the more you have the better SEO will be. And Google has made it easy for you to keep this information up to date.
Business Category
It's very important that you choose the right business category for your business. Selecting the right business category will improve your chances of appearing in more local searches for businesses like yours.
This GMB support article from Google has some helpful tips for choosing the right category.
Bedazzle That Joint!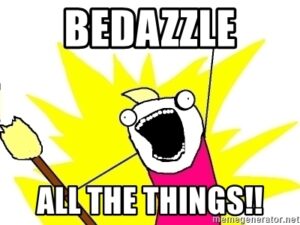 Now, you could leave it here and be OK, but why not bedazzle it? Put some life in it to encourage engagement.
Add interesting photos, respond to customer reviews, make posts that will spark and keep searchers interested. If you are doing all of this, you will start to see the results, and with this free tool, you get analytics!
In the analytics, you will see:
Views and clicks on your post
Reviews where you can respond to them
How many people called from Google
Keywords that brought people to your GMB
Use these keywords in your business description and try to incorporate them into the posts that you make. Don't overdo it with your keywords though, you do not want to appear to be keyword stuffing plus the content needs to make sense for the reader.
Google Reviews
A quick word about your Google reviews. People read these. They will look at your GMB and judge you solely on how many stars you have.
Take these reviews seriously. If you get a spammy review or one that is simply inappropriate or false, you can challenge it. Here is a great article on managing negative Google reviews.
If you get a bad review that is legit, respond to it and ask how you can make things better. If you get a great review, thank the reviewer. People like to see that you care.
And, by all means, encourage customers to leave you reviews. Place a link on your website using this step by step article from Google. Place a sticker on the door of your establishment (for the people walking out, not in). And tell your people to encourage customers to leave reviews.
The more reviews the better. If you are getting consistently bad reviews that are legit, we can't help you. You have bigger problems. Tackle those problems and you will get better reviews.
Photos Make a Huge Difference
We've mentioned this already but it bears repeating, nothing catches an eye better than a compelling photo. Whether it is from you or your customers, photos affect your listing's performance more than you think.
And here's a photo pro tip… when you are saving those photos to add to your GMB, use keywords in the file name. Again, don't go nuts here, use words that accurately describe what the picture is.
For example, if you are a car dealership and have a photo of a car for sale, name the file car-for-sale.jpg instead of image1.jpg.
Humans are visual creatures, so when they see something good, they want to click it to find out more. You can use these photos to promote your business in general or to showcase a limited time offer.
Just remember, people searching on Google will be scanning. Images capture their attention much more effectively than words.
So, go forth and claim your GMB, it is yours!  Make it interesting, accurate, and make it work for you!
If you need help with your Google My Business, let us know!