Dominating local search results and getting into Google Maps is essential for businesses dependent upon walk-in traffic, or have a distinct local catchment area for their customers.
If you are not in the Google Maps box when it is shown, or in the top 3 organic search results, then you are the first-placed loser.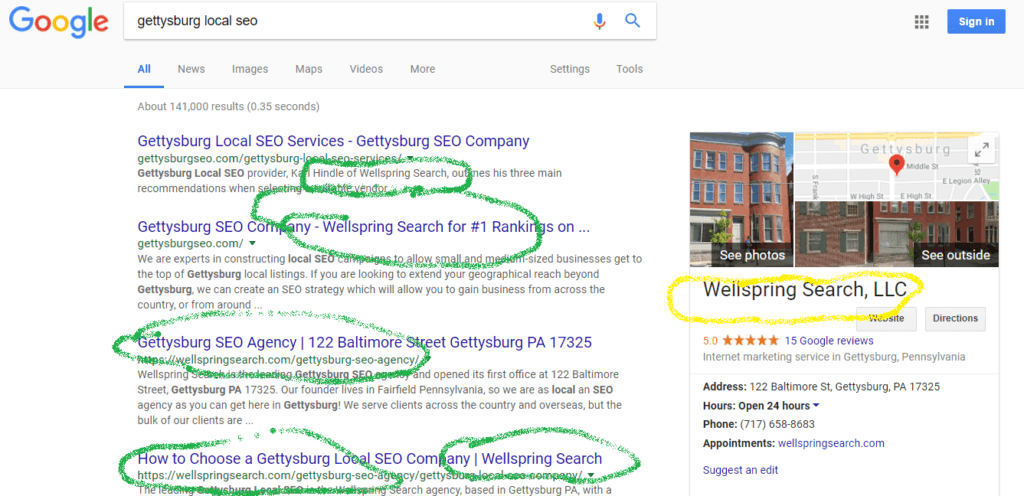 It is essential that you claim and optimize your Google My Business listing, and generate local citations using a consistent NAP (Name Address Phone).
Given the ability to edit the GMB listing, I also believe you should be treating this like a blog: update it with new photos or information on store campaigns and product/service offers.
Mobile is also a very important determinant of your Local search success, especially with Google Maps. With the bulk of searches now being made from a Mobile device, your website and digital footprint must be optimized for them, however your physical location and proximity to someone using a cell phone to search for a business is a big factor: this means you must make sure your business and address location are properly aligned.
In practice this will help ensure that when tourist is searching for, "Gettysburg Places to Eat" that your diner or restaurant is going to show up in the all-important Maps section: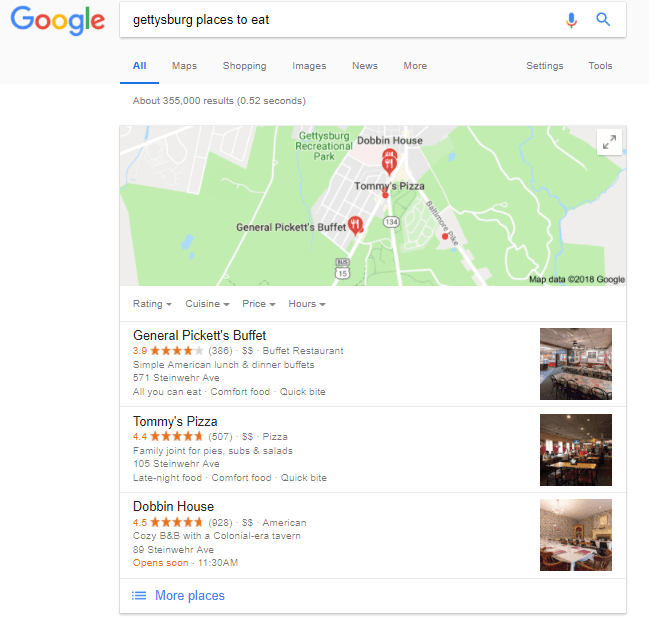 Now, I'm a little surprised by these results (and for disclosure, I'm performing this search in Fairfield PA where I live). My surprise is that while I know these eateries, they are not the ones I most associate with Gettysburg as a local: for instance, the Garryowen, The Pub, Blue and Grey, Christine's Cafe, and so on.
What this means to me as an SEO, is that these more popular spots in Gettysburg are not optimizing either for Local SEO or Mobile (or both) and possibly my personal location just outside town is also having an impact (but that can be overcome).
In a town such as Gettysburg which is heavily reliant on the tourist trade, any business must position itself to take maximum advantage of the traffic and searches being generated.  Local SEO is a powerful tool for generating walk-in traffic from visitors and more business from the local community, and as the "Gettysburg places to eat" listing demonstrates, even if you are a popular business within the community, you also need to show up when the tourists are coming to town.
Tel: 301.304.9349
122 Baltimore Street Gettysburg PA 17325