Of All The Web Design Companies in Austin TX Why Choose Us?
Why choose Wellspring Digital for your web design agency in Austin TX? Here are just a very few reasons:
We have a local presence with an office in Taylor TX serving the metro-Austin area headed up by our born and bred Texan, Sammye Klein and backed by a team of creatives and technical wizards.
We're not just local to Austin or Texas: we have a national reach as a web design company that has grown into a full service digital marketing agency. We serve customers across the US and internationally with offices in Frederick MD and Naples FL – if you need to grow and exert your influence beyond Austin, let us know because we can take you anywhere in the world.
We create business websites with digital marketing strategy in mind, especially SEO, Marketing Automation, Social Media and PPC.
We have developed the leading business website hosting platform, SailFish to provide superior performance, speed and security for our customers.
We provide enterprise-grade website support for the rest of your website's operational life – we're with you every step of the way after the website is launched.
We pride ourselves on working with Integrity (we don't lie), with Transparency (you get to see how and why we do things and we teach you if you want) and most of all, by the delivery of Results (not a surprise given our CEO served as a Paratrooper and is all about mission completion!).
Listen to our customers on their experience with Wellspring Digital and why they think Wellspring Digital is your website support and web design company in Austin TX: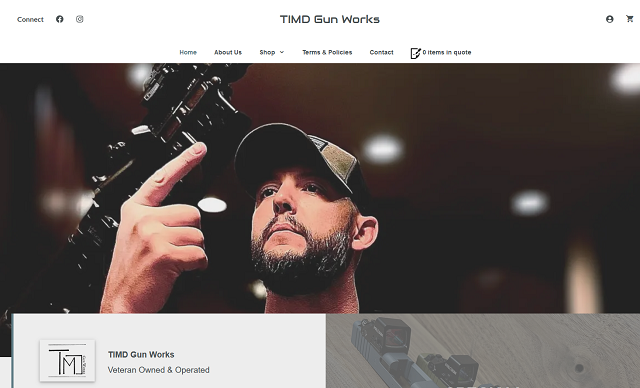 WordPress using Woo Commerce to provide Ecommerce functionality with a customized merchant account processor for online payments in a highly regulated niche.
I appreciate you more than you know and am so pumped about getting this site done. Thank you for all the help and support that's been offered.

Tim Anderson – CEO & Founder, TIMD Gunworks
100% Customizable Websites Driving Your Brand and Delivering Results
Wellspring Digital offers web design and development in Austin TX backed by a full-service digital marketing agency that provides all the support and services you will need post-launch.
We have a dedicated website design team who specialize in designing and supporting WordPress websites, though we also work with other website platforms too (if you have a non-WordPress website need you should call us to discuss your needs and how we can help you).
All of our websites are creatively designed but we include functionality too: you get a website that not only looks fantastic but has the functionality your visitors and business needs. We bake digital marketing readiness into all of the websites we design and develop, so you are ready to start your digital marketing efforts as soon as you launch. A great-looking website needs to be fast, secure, and usable by both Mobile and desktop users alike – the point is to raise your brand, engage your target audience and convert visitors into leads and customers.
Wellspring is a breath of fresh air after years working with other digital marketing firms. Most importantly, Wellspring is transparent, honest, and dedicated to always improving. The relationship is a true partnership."

Doug Miller – CEO, Brightworks Group (Cloud provider & MSP)
Creative Process Meets Technical Excellence in Delivering Fully Customizable Websites
As a creative and technical team of web designers, we have established processes and systems to ensure the delivery of your online brand ambassador. The Wellspring Digital web design team will take you through a tried and tested process that articulates your vision in design, develops a fully functional website, and then thoroughly tests the product before your sign-off and launch.
We provide fully customizable websites which reflect and advance your brand and business image. We will also integrate your website with whatever business systems or third-party applications you are using, including out-of-the-box integration with all major Social Media platforms, Google, CRMs, schedulers and contact forms. We can also handle custom integration for non-standard systems, so your website will always work seamlessly with your existing business systems.
Content Management & Website Training for Your Team
We never simply launch a website and say "Goodbye!"
Part of our website design process includes end-user training so your people know how to make changes to content, add or delete web pages and make alterations as you need without being tied to us. If you can use a Word document you can use WordPress to manage your content and we will train you and your staff.
If you want us to support you in making content changes, we are very happy to do so and have very competitive rates too!
In addition to content management and website training, we will also fully support the website with a support desk for all technical issues or changes you may need.
Wellspring Digital helped us clean up our site implementation, including putting together and submitting a comprehensive DISAVOW list with Google. Karl and the team are responsive, their technical ability and fast turn around helped us improve our website operations.

Frank Oelschlager – Partner, Ten Mile Square Technologies
Industry Leading WordPress Managed Hosting & Support Desk – Website Support
Websites are like cars – they must be maintained if you are to ensure optimal performance and security. This means someone must perform updates, apply security patches and ensure backups are being made.
We provide a fully-managed WordPress hosting service through SailFish, a very fast and highly secure WordPress host.
SailFish includes the following and more:
Automated Updates – ensures you are always secure
Nightly Backups – so if the worst happens we have copies of your website ready to go
Daily Malware Scanning – if something gets in, we'll get it out fast!
Web Application Firewall – stops the bad guys from getting to you in the first place
Dedicated IP – great for SEO and for security
DNS Management – takes the pain of managing a DNS server out of the equation
Free Migration Assistance (for Clients with an existing website who are just looking to have us host and support them)
Now we've launched your website on the world, what's next?
Leverage A Full-Service Digital Marketing Agency to Drive Your New Website
Our web designers are part of a team of digital marketing professionals, some of whom are industry names.
Our web design team does not operate in isolation and we do not launch a client website off a cliff and say, Fly!" and walk away.
Once your new website is launched you need digital marketing efforts to be ramped up, and we have the team to take over or augment your internal team as you need. Our digital marketing services include:
Our web design customers benefit from an established, end-to-end process that takes them from vision and concept to a fully-functional website and beyond. We stand by our work and will support you every step of the way during the web development process and years into the future with digital marketing and technical support.
Are you ready to talk  about your web design project or website support needs – call us for a no obligation consultation on (512) 598-5244 or schedule a Zoom meeting here.