Washington DC Web Design Agency
Wellspring Digital serves website design customers in Washington DC and across the NOVA, DC Metro area from our head office in Frederick Maryland. Our highly experienced web development team plays a crucial role in our full-service digital marketing agency, and we bake in the very latest developments and industry best practices into every website we build.
We are primarily a WordPress shop, but we will also build and support other platforms and code too.
Clients use Wellspring Digital to create and project a modernized brand presence that speaks directly to your target markets and audiences.
We use a tried and proven set of processes to bring your business vision to life in a creatively designed and fully functional website. We deliver websites that can be put to work in increasing your brand exposure, generating leads, and converting visitors into customers.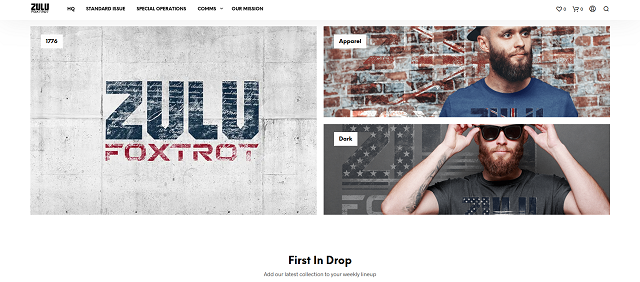 Ecommerce website based on WordPress with customized WooCommerce install.
Our goal is to provide you with a website that you are proud of, but more importantly that your visitors love to engage with whether on Mobile or desktop (all of our websites are fully Responsive and Adaptive for use on any Mobile device or OS).
We equally focus on the design and website functionality – the sweet spot lies between a great-looking website and functionality that rapidly delivers what your visitors are looking for. We place emphasis on speed and security, while our team is also highly experienced with integrating websites into your existing business tech stack.
The end result of our website design process is a fast, secure digital expression of your brand and organization, fully capable of attracting and transacting business as you need.
100% Fully Customizable Websites Integrated With Your Business and Marketing Tech Stack
All of our website builds are fully customizable to your brand and business need. In addition, we will integrate your website with your business systems and marketing stack, such as your CRM, Marketing Automation, appointment scheduling, and lead contact forms as well as your Social Media footprint.
We can integrate a wide range of systems using "Zaps" (Zapier) which allow for out-of-the-box integration, but sometimes you need something more and we can create custom integrations as your specifications require.
We will ensure that your website will work with your business as an integral part of your processes and systems and will not force your customers and business to accommodate limitations.
Web Development Experience Meets Creative Energy
Jon-Mikel Bailey leads our web design team and has over 20 years of experience in web design and development, most of it gained here in Washington DC and the I-270 corridor. Jon and his team will take your vision through concept and design, articulating concepts through a development process that provides you with a fully functional website ready for launch after rigorous testing.
Website User Training – Take Control of Your Content
Websites are dynamic in that the content you provide users must stay up to date and change to suit their tastes. Wellspring Digital will train your staff on how to use your website's Content Management System (CMS).
We will free your staff from developers and their turnaround times, allowing them to make changes to the website content on your schedule. Your team will be able to add and delete content, format and add images and video, change pricing and product information on the fly without submitting support tickets that may take days or weeks to be fulfilled.
For customers who want it done for them, we also provide a full website content management service with preset SLAs tailored to suit your business and budget.
For our DC clients we will also arrange in-person training if required and we also have a library of training materials for on-demand use by your users and content managers.
No matter which option you choose, we will support you every step of the way!
Managed Website Hosting and Support Desk from the Leading Washington DC Web Design Agency
Websites are like your vehicle – they must be frequently maintained to ensure you get optimal performance and results from them.
Wellspring Digital has partnered with SailFish, the leading managed WordPress hosting solution to ensure your website is fully maintained and secured, not just on the day we launch it but over time. This DC web design company stays with you for the life of your website and we stand by our work!
Some website maintenance tasks should be done daily, weekly and monthly from monitoring security, addressing updates and patch applications, and ensuring backups are maintained. In addition, we are on hand should anything happen to the website that takes it down, whether it be a server issue or a security incident.
Through SailFish we operate a dedicated support desk and fully managed WordPress hosting service that will include the following:
Daily Backups of your website
Web Application Firewall (WAF) that acts as your door security
Malware Scanning which will address unwanted intruders
DNS Management so there is no need for nameserver management
Dedicated IP so you are not sharing resources that spammers or pornographers may be using, and it's good for your SEO too!
FREE Migration of WordPress websites for those customers looking to keep their existing website but have us support it.
Full-Service Digital Marketing for your New Website
Our web design team works closely during design and development with our digital marketing team to ensure we build in everything you will need to market through the website when it is launched.
Wellspring Digital does not hand off a website and walk away: we stay with you as you now leverage your website to market to your target markets with a best-of-breed digital marketing team led by industry leaders.
Wellspring Digital offers a full range of digital marketing services including:
Boutique specialist services and strategy
With Wellspring Digital as your Washington DC web design partner, you will enjoy a seamless, under one roof approach to creating your new website.
Washington DC Web Design Agency Wellspring Digital – to discuss your web design or redesign project or your web support needs call us on (301) 383-8351 or book your meeting here.