Regenerative Medicine Marketing 
Wellspring Digital is the Go To regenerative medicine marketing partner in the country!
If your practice is offering cutting edge treatments such as stem cell regenerative medicine (cell therapy), prolotherapy, PRP, nerve therapy, or any of the range of regenerative non-surgical treatments, orthopedics & esthetics, then you need a digital marketing agency that understands both the challenges and the pitfalls of marketing treatments which are not considered as mainstream or have full FDA approval.
That's why Wellspring Digital is proud to offer our all-encompassing solution that will bring your regenerative medicine business to the next level. Our extensive experience and deep industry knowledge allow us to craft and implement results-driven digital marketing strategies that align with your regenerative medicine practice's goals. 
Digital Marketing Services for Regenerative Medical Practices
Wellspring Digital offers the full scope of digital marketing services for regenerative medicine practices – we are a true, full-service digital marketing agency. 
We can help you with the following: 
Understanding the unique intricacies of the regenerative medical space means that we're uniquely able to craft a custom digital marketing strategy to help you reach your business goals.  
We will also take the lead in executing this strategy, tracking its progress, and making data-driven adjustments along the way.  
If you already have in-house marketing specialists, our vCMO service can help increase their effectiveness with custom-tailored processes and mentorship. If you don't, our experts can work as a full-fledged team executing your digital marketing strategy. 
We will take care of everything digital marketing-related, giving you the freedom to focus on what you do best – helping patients. 
Our SEO solutions help you reach patients actively seeking regenerative medicine solutions. We will grow your online presence with quality content optimized both for readers and search engines.  
Our proven onsite and offsite SEO efforts will help you rise to the top of search engine rankings, ensuring that your practice is found by the right people at the right time, driving organic traffic to your website. 
We will also take care of any technical issues on your website, ensuring it works fast and is easy to use on any device – those are important ranking factors for search engines.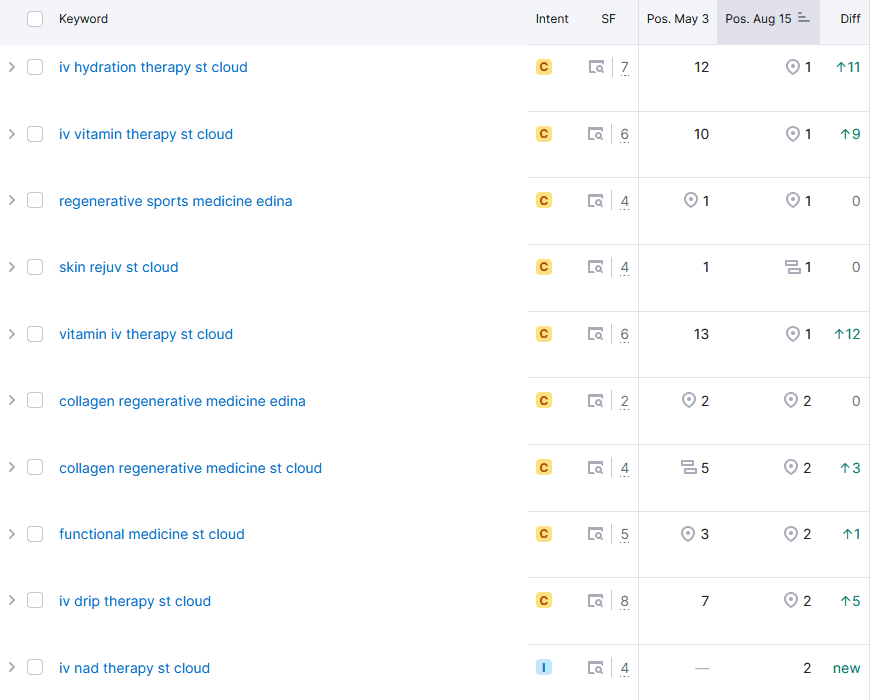 Your social media presence is often viewed by potential clients, vetting you through their review of what you share. We will use thoughtfully crafted content and engaging visuals to foster a community around your brand. 
Leveraging platforms like Facebook, Twitter, LinkedIn, and Instagram, we will help you educate the public about the newest developments in regenerative medicine, all while building trust and brand loyalty. 
Our PPC strategies provide immediate visibility on search engines and social platforms, bringing in targeted leads. By bidding on keywords related to regenerative medicine, we will position your advertisements at the top of search engine results, driving instant traffic to your website.  
This results-driven approach ensures that your budget is optimized and produces the results you need. Our unique approach focuses on getting maximum conversion for minimum ad spend resulting in a positive ROI.  
The power of storytelling cannot be overstated. Google uses the E-E-A-T (Experience, Expertise, Authoritativeness, and Trustworthiness) acronym to describe a perfect piece of content. Because your site is part of the YMYL group, E-E-A-T is even more important for you and your website content.  
These are also our core principles when it comes to creating content for you. We will create compelling blog posts, infographics, white papers, and more, fostering understanding and promoting the incredible potential of your work. 
Our email marketing campaigns are designed to nurture relationships with your patients and caregivers, providing regular updates about your practice, relevant industry news, and valuable resources.  
We manage subscriber lists, automate campaigns, and provide detailed analytics, helping you to maximize engagement and retain loyal patients. 
Marketing automation saves valuable time and ensures consistency and precision in your marketing efforts. These platforms can be made to handle various tasks, such as segmenting your audience based on certain parameters like their interaction with your brand or their position in the sales funnel. 
Through the appropriate use of marketing automation, we can track and analyze your campaigns' performance in real-time. This means we can continually optimize your marketing strategy based on accurate, up-to-the-minute data. 
Why You Need a Specialized Agency for Regenerative Medicine Digital Marketing 
Running successful digital marketing campaigns for regenerative medicine practices is impossible without deep knowledge of different channels' rules and best practices regarding the healthcare industry., and specifically for regenerative medical services and treatments.
Whether you want to drive organic traffic to your website, grow your social media following, or attract new customers with ads, you must fully comply with numerous requirements in order to fully leverage the opportunities they bring to your table.
Wellspring Digital will deliver results for your practice!
Let's Work Together! 
We are the Go To choice for regenerative medicine marketing in the country and around the world.
Ready to elevate your digital presence? Contact us today!