What Is Marketing Automation?
Marketing automation is an industry, tool, and technology. It's so many things at once which makes it quite intimidating at first. However, once you jump into the world of marketing automation, it makes lives easier for both customers and owners alike.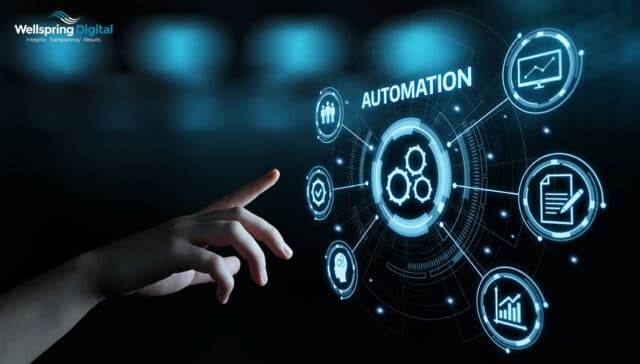 Marketing automation is the use of technology to automate marketing processes. Essentially, it streamlines the processes in marketing to provide easier access and management over marketing campaigns. It covers things that are usually repetitive like emails, follow-ups, and social media posts.
Marketing automation is primarily used by small to mid-sized businesses. While it's more common in business-to-business industries, it has expanded into business-to-customer industries as well, solidifying it as a must-have tool for marketing.
About 50% of businesses in 2019 were using marketing automation in their strategies and nearly 60% of companies were planning to implement strategies. Marketing automation became popular in the 2000s, It's use in business strategies and marketing techniques grew.
What makes marketing automation so necessary? Our world is constantly evolving. It's a requirement to become more efficient with your work and to provide high-quality products and services.
Between competing with other businesses and working to improve sales with your customers, you need to focus on providing a quality product in time. Timing is everything for businesses to succeed. It's hard to get perfect time management. This is where marketing automation comes in.
What Does Marketing Automation Include?
Marketing automation comes in the form of software. It's designed to make marketing easier and more efficient. However, there are different types of marketing automation options to choose from.
Certain software will be better for different businesses, of course, so it's important to pick something that will work for you and not against you. What helps in the selection of marketing automation platforms is picking out what tools are in line with your marketing objectives.
Automated Email Marketing
A common use of marketing automation is an automated email. Sending emails out to customers can be time-consuming. Once automated, you can manage what emails go out with customers opting-in or out.
This can be further improved upon with behavioral emails. These emails are centered around a customer's behavior, which can generate more revenue for your business. These emails become less time-consuming and usually more personal, which forms that intimate bond needed between seller and buyer.
Customer Relationship Management or CRM
Another common use is customer relationship management marketing automation or CRM. This type of automation reveals what customers like. This lets you avoid the nitty-gritty task of going into customer data and compiling what seems to be working the best with your customers.
This becomes time-consuming and can hinder your efforts to provide quick services, goods, customer service punctually. A CRM will let you look at the customer's information to further personalize interactions.
Social Media Automation
Another common use of marketing automation is social media automation. Using popular social media platforms like Facebook, Instagram, and Twitter is a must for marketing. It gets your voice out and is a lovely way to interact with customers on a meaningful level.
It also establishes your brand and personality. However, it's also something that can be hard to manage without something helping you. Social media marketing automation allows you to…
schedule posts
manage your network on social media
measure the success of social media in general
Businesses have begun using this as a different means of connecting with their customers, making it a must in marketing automation.
These aren't the only forms of marketing automation, just some of the most popular types. Marketing automation is multi-faceted marketing technology. It is one of the most important business tools for generating revenue and getting your business to take off running.
And thankfully, many types of software offer multiple forms of marketing automation.
Difference Between Success and Failure in Marketing Automation
The key difference between businesses that use marketing automation and those that don't is that there must be a marketing plan. If you don't have a strong marketing foundation for your business, marketing automation will be working against you. However, following the steps for successful marketing automation is easy.
Businesses that don't use marketing automation usually because they have no marketing, to begin with. You can't work with something that doesn't exist. Or if there are marketing efforts, it's not enough to make it effective.
It's like trying to fix something that has nothing there. If you attempt to use marketing automation at that point, you'll be losing money, losing time, and wasting effort.
As I said before, marketing automation is an important tool for a business. It brings several advantages and perks for a business and can do many wonderful things when used correctly.
When You Should Implement Marketing Automation
Timing is key because you want to do it early enough so your business will grow with marketing automation, but not too early to where it backfires. But how do you know if you're ready for marketing automation?
You aren't getting the wanted results from the work being put in
You spend too much time with poor leads
It's hard and time-consuming to manage your social media and email marketing
You can't hire more staff
Growth is stagnant
More and more businesses are using marketing automation to make their marketing easier. They have a foundation to work with, but need a tool to help them manage properly.
Marketing Automation Benefits
If you are ready for growth you should begin implementing marketing automation into your business as soon as possible. Marketing automation done well will automatically show benefits.
Benefits include:
More time for other marketing and communications activities
Improved customer experience
Increased Revenue
Better quality leads
Reduced costs
Improved efficiency
Ability to manage and measure marketing techniques
Is Marketing Automation Right for You?
Marketing automation is a must for most businesses and is strongly encouraged. It makes everything easier for your employees, customers, and yourself. The only rare exception is where there is no marketing to be automated.
In any other case, you should be using marketing automation to efficiently manage resources and grow your business. The benefits are endless and it's one of the few general perks that give every business an edge against other competitors in any industry.
Do you need help getting started with marketing automation? Or is your marketing automation not being managed properly? We can help. Drop us a line or give us a call at 717.658.8683.