Wellspring Digital opened our first offices on Baltimore Street, opposite the Adams County Courthouse, so it should not come as a surprise that we rank highly for Gettysburg SEO. As a newcomer to the area though, the fact we have taken the coveted number 1 ranking position for this search term underlines just how strong we are as an optimization company, and that we practice what we preach to our Local SEO clients.
The image below is a screenshot of the search results page in Google for the search, "Gettysburg SEO":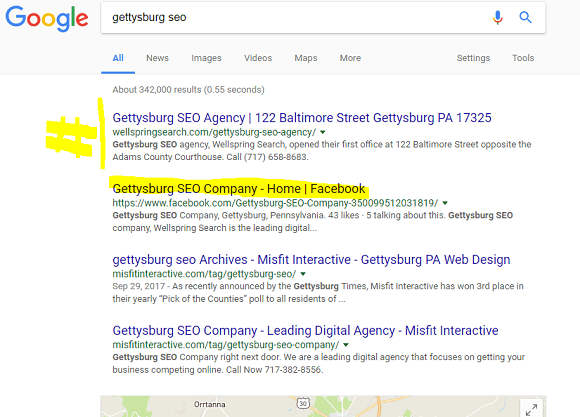 You can see that Wellspring Digital's page on Gettysburg SEO Agency has taken the top slot, but if you also look closely you will see at #2 the Facebook page for GettysburgSEO.com – this is one of the mini-sites we have built to support marketing efforts of our main agency.
Why Is It Important to Rank #1 in Google?
The primary reason for taking the #1 ranking spot for any keyword term is that you get the lion's share of the clicks from Google. More than any other feature on the search results page in fact.
It is too soon to say how much more traffic we are generating from this particular ranking result for "Gettysburg SEO", but we will monitor this carefully and see what progress is made over time.
A further reason for gaining the #1 ranking spot is that search users tend to view being at the top as evidence that you are trustworthy and credible. If you are #1 prospects implicitly believe you are the best option.
There are other benefits too for gaining top position for a keyword term, but these are more subtle. The most important one to my mind is that if you occupy the search engine real estate, then you deny these ranking positions to your competition who must then work harder elsewhere, or spend more money on other ways of prospecting and generating leads and sales. Taking the #1 ranking spot is a great way to create competitive advantage you can then use to build a dominating position with over your target market.
In this instance, because Wellspring Digital occupies #1 spot, and GettysburgSEO.com takes #2 position, we are denying our competitors these clicks for SEO experts in the town, and also competitors from outside the area too.
We are also providing validity that as we offer SEO services, and because we rank #1 for this term, we really do know what we are doing as optimization practitioners and as a digital marketing agency.
Note that this only deals with the organic results in Google, and we have yet to make an impact upon Google Maps, but that is only a matter of time.
What about Bing, the Other Big Search Engine?
Bing is the search engine created by Microsoft, and it does have a significant share of the search market, around 25-30%. Google dominates the search engine space, but we should not discount Bing because of the demographics who use it – people using Bing tend to the older, Silver Surfer with grey hairs (like me!)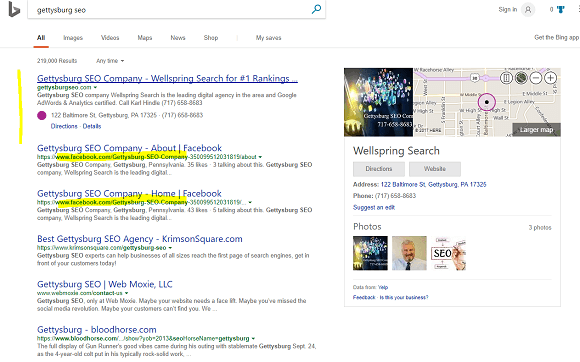 Here we can see that our mini-site, GettysburgSEO.com is dominating the search results in Bing for this search term. We do not see Wellspring Digital yet, but you obviously see and feel its presence, not least from how we have optimized GettysburgSEO.com for Wellspring Digital itself and the listing in Bing's Map feature.
It is important to note here that we have not purposely optimized for Bing, but focused upon Google. The two search engines operate in different ways when it comes to evaluating and ranking websites, and frequently what you do for one search engine is not beneficial for the other, so there is a trade-off.
You can also that our Facebook page created for Gettysburg SEO Company is doing well in Bing, taking the #2 and #3 ranking positions.
So, as far as Bing is concerned, we are claiming the four most important pieces of search engine real estate – the top 3 ranking positions in the organic results, and the Maps/featured result listing.
But the good news is that our main target website, WellspringDigital.com has yet to put in an appearance of its own, so there is an opportunity to increase our domination in Bing even further.
Again, we'll monitor this situation so we can see how WellspringDigital.com progresses through the ranking positions, and we'll also keep an eye on what this does for traffic numbers to our websites as part of the ROI for the campaign.
Watch this space!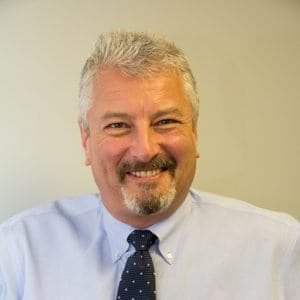 Looking for an SEO expert?
Contact us for a no-obligation consultation on how we can drive your website to the top of search engine results.
Call (717) 658-8683 or email us at admin@wellspringsearch.com
Wellspring Digital, LLC – 122 Baltimore Street, Gettysburg PA 17325