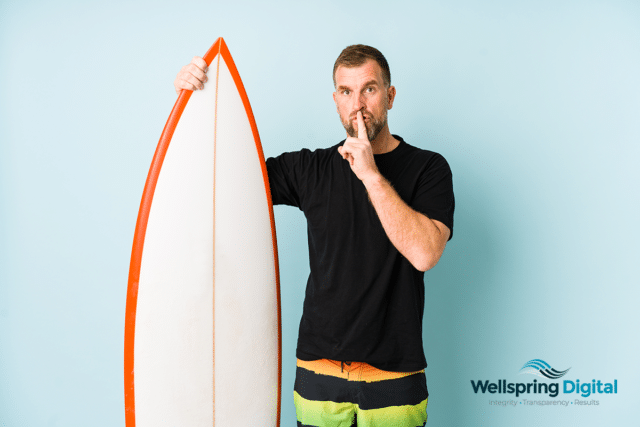 Warning:  This blog may make sales managers nervous, and potential buyers smile and nod. 
Remember "back in the day" when sales representatives could estimate their future sales through a pipeline? Our marketing efforts pulled leads into the top of the funnel, and our sales team closely guided those leads through the funnel to a sale. At any time, a diligent sales rep could present an estimate of future sales.
Now, prospective buyers may not invite you to the process until just before they purchase… if they even include someone from your organization in their decision at all.
What is Silent Surfing?
The dying sales funnel has been replaced by a cloud of information and customer browsing. The sales process is no longer a straight line. Your customers jump from your Facebook feed, your website… over to your YouTube page… to your reviews, comparing your product or services to your competition. All before contacting your team.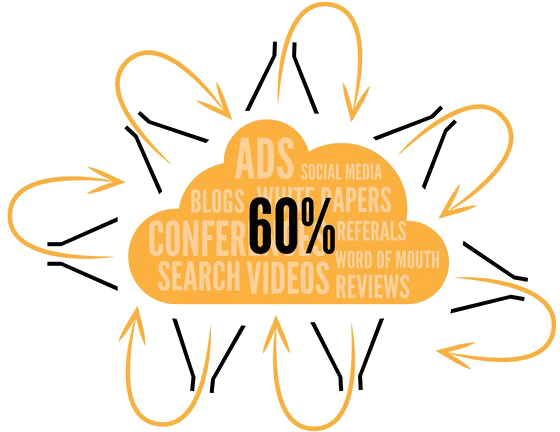 Don't just take my word for it. Instead, listen to this Wellspring Digital Chat between Jon-Mikel Bailey of Wellspring Digital and Scott Stratten, best-selling author of Unmarketing.
Indeed, marketing and sales leaders started waving a red warning flag in years past. They were trying to get your attention. The death of the traditional sales pipeline was on the horizon. And then, we all faced the COVID 19 pandemic crisis. The crisis changed business, including sales and marketing efforts, overnight.
Now, we have another red flag to consider…
Disappearing Bread Crumbs
Spend some time browsing all of your social media channels this week, both your personal and business. Have you noticed that your friends and followers are less active? Perhaps they are posting fewer selfies, commenting less, or "liking" posts less.
Five years ago, a business or organization could announce a new product or service on social media and receive hundreds to thousands of fan interactions. We posted an event and immediately watched the RSVPs flow. Marketing managers easily used social channels to gauge and report market interaction.
Social posts surged as the COVID crisis unfolded in 2020. We all held hands through social media. As marketing and sales leaders waved the red flag on the traditional sales pipeline, they were comforted by social media and web stats. But, unfortunately, the comfort was short-lived.
Here is a quote from a recent Buzzfeed.com story about the decline in social posting:
"As we grow and change, we realize that documenting our lives on social media is a double-edged sword." – A response from one BuzzFeed survey participant.
In 2021, social followers are posting, liking, and sharing less. There are many reasons for this new trend, and the grounds are often hotly debated. However, the bottom line is that social media users are now keeping many of their decisions and lifestyle private. As the United States saw a surge in social media interactions at the beginning of the COVID crisis, we now see the opposite. Lifestyle sharing is on the decline, including the customer promotion of favorite brands.
But customers are still there, quietly browsing and comparing your product or service to your competition. Welcome to the Silent Surfing trend.
Finding the New Trend and Sales Forecasting
In 2018, I wrote a book, "Conquer the Trend Wave." I decided to write the book when I saw an old sign on a gas station wall in Bevard, NC.  The handwritten sign said, "All Calendars' Days Are Numbered." One meaning of that sign is that that life constantly changes. So does the life of your business.
I admit that in 2018, I did not forecast the trend whiplash that lurked just around the corner. Many in the marketing industry feel that the first months of the COVID crisis compressed twenty years of change into a few months. Trends changed fast in 2020, and so did the business leader's capacity to forecast sales.
As marketing and sales leaders, we need a new way to forecast income. In addition, as we all adjust to a new economy, we need to survey trends and predict the future.
Google My Business Provides Insight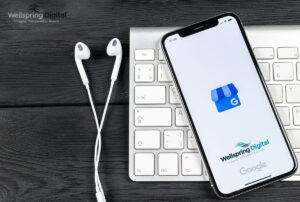 "Outdoor dining near me now…curbside grocery pick-up…hardware stores open today…drug stores open now…pizza delivery after midnight…."
How many businesses did you Google during the first months of the COVID crisis? As the economy re-opens, the GMB effect remains strong.
If you have not been including GMB in your sales and marketing plan, start today. Google My Business listings now play a vital role in showcasing your company to prospective buyers. GMB also provides you sales and marketing statistics. In addition, it provides a view into changing trends.
Craft the perfect message and more potential customers find your business. Then, analyze data through your Google My Business portal and know when your message is resonating or when it is time to shift your marketing.
GMB is only one tool. It's only showing the tip of business trends. Marketers are also seeing a re-purposing of some old tools.
Buyers Are Now Investigators: It's Time to Re-Purpose 3 Tools
As buyers participated in the national WFH mandate, they realized that they had time to research a product or service before buying. As a result, buyers are now stealth investigators. They have found time to read long-format content, download eBooks, subscribe to newsletters, and even read emails in your campaigns. All while comparing you to your competitors.
A social post about your brand may no longer capture sales. Your marketing plan needs to include a multi-prong approach, and that approach must consist of informative content.
A five-star review is excellent and should remain a goal. But now, your potential customers want to hear the real story behind the review. Sure, you may capture a quick sale when someone searches for "outdoor dining near me now," but you also need a plan to hold onto and grow your customer base.
If buyers have become investigators, provide them long-format content about your brand, product, and services. Then, track who is opting into your newsletter and who downloads your new eBook. Marketing automation is what I'm talking about here. Not just blasting them with random messages, but tracking those touchpoints and delivering messages to them when it works for you and them.
They may not be giving you a thumbs-up on Facebook, but they are your potential future customers, and you need to nurture them as such. It's time for you to get more strategic and stop relying on meaningless vanity metrics to determine if your marketing is successful.
As we all work to re-grow our economy, it is time to re-tell the stories. It is time to dust off our newsletter database; it's time to interview customers. It is time to provide details in an email campaign, and it is time to write an eBook.
If you are already publishing long-format content or distributing a newsletter, who follows up with those brand fans? When was the last time you reached out to those adopters? Perhaps those are questions for your next sales meeting. (Yes, an old way to capture leads gets a new life)
Potential customers want to read your brand's story. So it is time to tell it.