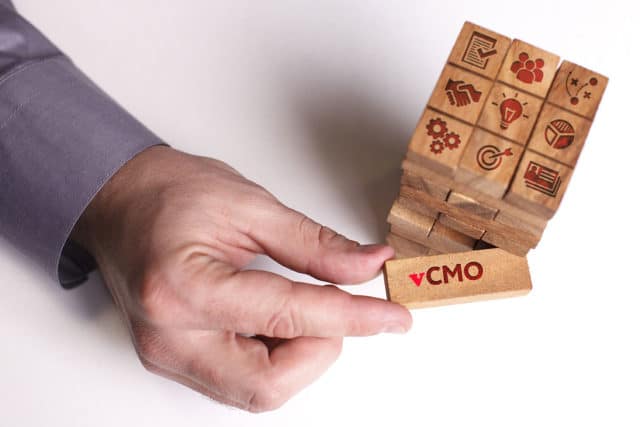 Small and medium-sized business owners often wear quite a few hats. Operations, finance, human resources management, and so on – there are more than enough tasks to keep a CEO busy around the clock.
When it comes to marketing, especially digital marketing, things become even more complicated. Everyone understands its importance for business growth.
The main problem is finding the resources to do it the right way, as the results of a recent Semrush's small business survey show: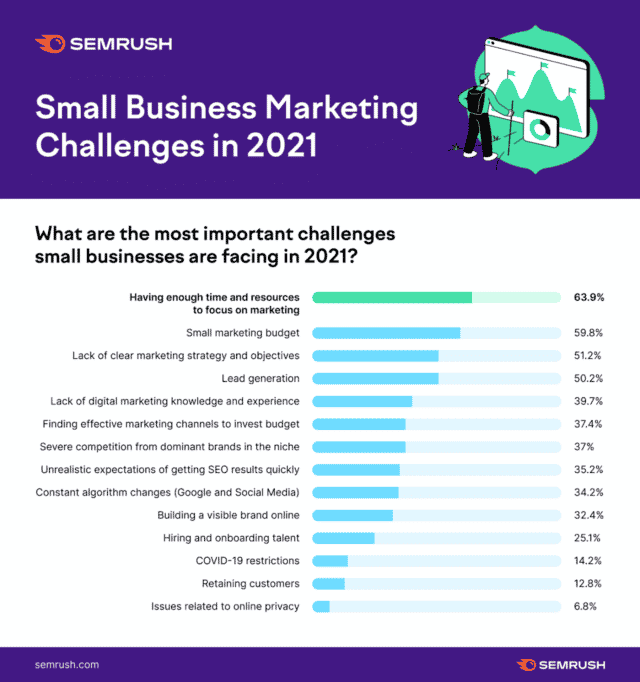 Hiring a full-time chief marketing officer is not always an option for a typical SMB: such specialists are very expensive (notice the second line on the image above?). But there is a solution.
You've probably already guessed but I'll say it anyway: it's a vCMO.
Who Are vCMOs?
A virtual chief marketing officer (also known as a fractional CMO) is a solo specialist or a specialist supported by a team who can take care of your marketing needs remotely on a part-time basis.
A good vCMO can be a seasoned marketer or a marketing expert leading a team of marketers. These individuals or groups are ideal for many organizations because they will not need a ton of time for onboarding and learning all ins and outs. They have enough experience to start providing value immediately.
One important point to make here. Whether you can engage a vCMO as a single individual or an agency like us, it is critical to determine who will act as the vCMO and be the main point of contact for all CMO-level decisions.
What Does a vCMO Do?
Engaging a vCMO means that you only pay for the block of hours they use, whereas hiring a full-time CMO means salary, benefits, etc. A vCMO can cover most of your marketing needs without taking up space in your employee roster. A vCMO can help with or manage the following:
reviewing and adjusting marketing processes in your company
Of course, it would hardly be possible for a single part-time employee freelancer to cover all these bases. What tends to work best is hiring a team of marketing experts with one main point of contact who will work as your vCMO as mentioned above.
The point of all of this is two-fold. A vCMO allows you to manage other things like running your business. They can report on marketing activity to you such that you can make quick and informed decisions on how to proceed with your marketing efforts.
And, having a vCMO will save you time and money. The vCMO manages the team and budget. A vCMO setup will streamline all marketing activity and allow you to allocate budget to exact needs, giving your marketing efforts surgical precision.
Let's dissect that a bit.
One vCMO to Rule Them All!
This central point of contact would be responsible for managing their agency team as well as certain tasks assigned to marketing personnel at your business. For example, you might have subject matter experts in your company who can write the content needed based on the determinations of the vCMO and the needs of your business.
Most marketing agencies are process-driven and can work with your internal project management system or integrate your team into theirs. To get the most out of your vCMO, work with them to prioritize the most important marketing tasks. Then, the vCMO would assign tasks as needed to the collective marketing team which could be people on your team, experts in their agency or other firms, or a combination of both.
It's important to add that even though a vCMO can perform tactical tasks such as writing your social media posts, it may not be the most cost-effective solution. This is often something you can manage internally or the vCMO will have the resources at their agency to handle these tasks for you.
The vCMO will use their time to optimize and manage marketing tasks. The vCMO would be creating a strategical vision, providing guidance, and raising the effectiveness of your marketing efforts. All other tasks are divvied out to the team available.
Which Companies May Benefit from vCMO
There are quite a few scenarios in which hiring a fractional CMO may be the best solution for your business.
If you don't have a dedicated marketer on your team, your company will definitely benefit from hiring a vCMO. They can help to plan and take care of all the marketing activities needed. They can also help you to create a realistic and affordable budget as well as to determine what success looks like, i.e., the ROI of your marketing efforts.
If you have in-house marketers but don't feel like they are working in the most effective way possible – a vCMO can become a leader who will mentor them, set clear goals, and is accountable for all marketing successes and/or failures.
If your company is stagnating and you've run out of ideas on what to do next. A seasoned marketing expert or team of experts can provide a fresh perspective and share invaluable insights helping to get your marketing back on track.
Oftentimes, an outside perspective is critical. Companies can be overly myopic and reactive with their marketing efforts. They will miss keep opportunities and lack a clear overarching vision and strategy.
Conversely, if your company is growing, and you need to scale the marketing output – a fractional CMO will help adjust processes and workflows. They can help you to prioritize needs and determine who on their team or yours will handle certain marketing tasks.
Remember, successful marketing efforts are very process driven. If you lack that process, something is going to break or at the very least underperform.
Where to Find a vCMO that Suits Your Company
So, you've decided to hire a fractional CMO. Now there is only one tiny little problem: where to find the right one.
As we said, the main asset of a good vCMO is their experience. So, you should make sure that your perfect candidate has enough experience under their belt to bring value to your business from the start. Familiarity with your industry can also be a great advantage. That said, the experience and skill set of the individual and their team (if they have one) is ultimately most important.
Some fractional CMOs work as freelancers and can be found on such freelance websites as Fiverr or Upwork. However, navigating through hundreds of profiles looking for the one that looks the most promising can be very time-consuming.
Also, you get what you pay for. You might get lucky and find a diamond in the rough but make sure to do your homework. Call references, read testimonials, ask lots of questions, and be certain that this person/team will be the right fit.
Of course, we offer vCMO services provided by marketers with decades of executive experience in all types of businesses – from startups to brick-and-mortar to enterprises.
We will be glad to help with your marketing endeavors. This is how one of our clients talks about the value of vCMO services…
"Wellspring Digital's Virtual CMO feature is unique and one that's proven helpful to us. Everyone at Wellspring Digital is smart, candid, and collaborative, and we're able to have high-level discussions that help support our company's goals."

Amy Rafael, VP of Marketing, Lincoln Healthcare Leadership
If you'd like to talk to us about vCMO services, please let us know or book a call today.