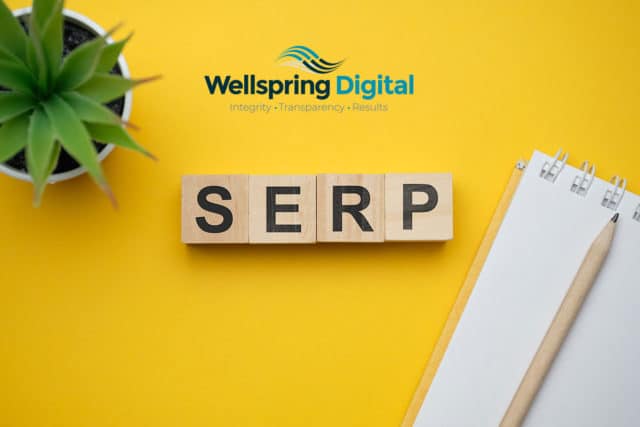 Whether you want to buy a pair of sneakers, find the nearest cinema, or learn how old is the Universe – your go-to place is a Search Engine Results Page a.k.a. SERP.
According to Internet Live Stats, Google processes over 100,000 searches per second, which means that over 8.5 billion searches are performed every day.
So, why is Google this popular? Because it strives (and often succeeds) to provide you with the most relevant results.
Since Google's beta release in 1998, the search engine has gone a long way in experimenting and improving its results and how they appear to the user.  Let's see how it all started and where the SERP is today.
Evolution of Google SERP
Just to give you a quick overview of how the Google SERP evolved over the last 22 years, here are a few examples.
Ever wondered how Google looked in its early days? It's easier than it seems. Just search for "Google in 1998", and you will be able to see a 24-year-old Google Beta search results page: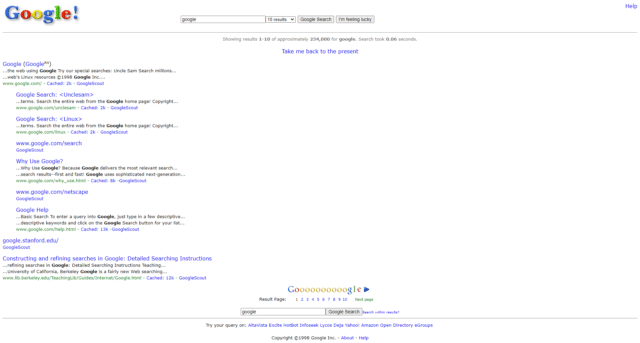 As you can see, there's not much to look at. Just a bunch of snippets representing organic results.
On 2002's SERP, you can see paid ads added: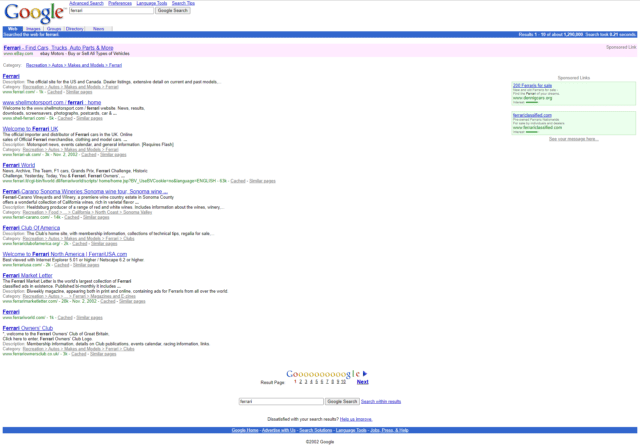 As years passed, more and more types of snippets appeared. Here is a SERP from 2009 with news results and local pack: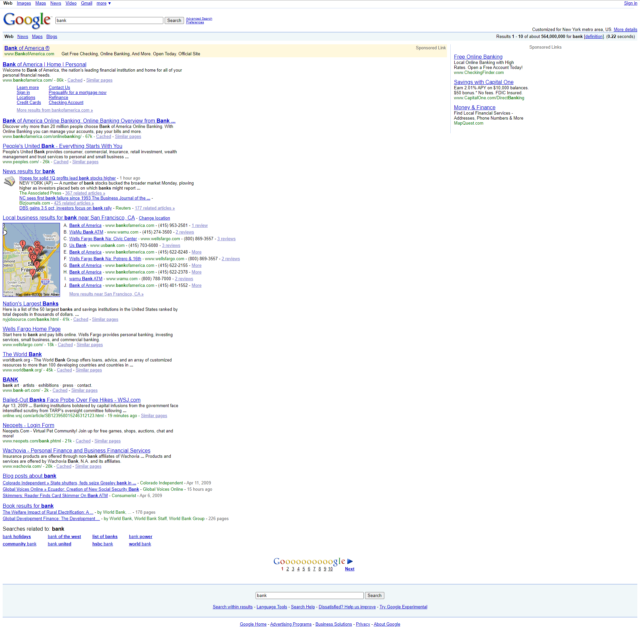 And here is a screenshot from 2016 with a definition of a term shown in a featured snippet: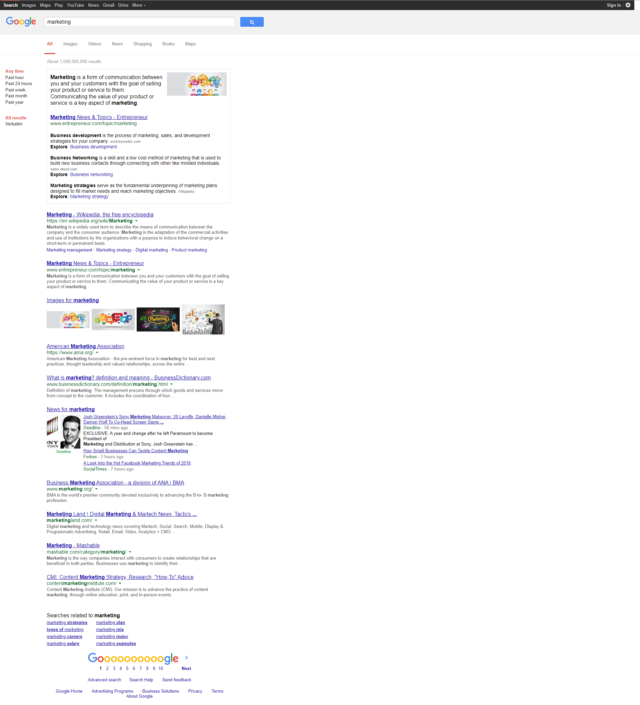 But enough ancient history! Let's talk about how SERPs look today, and, what's even more important, what it takes to appear on them.
Why SERPs Are Created Different
Today, the look of a search engine results page may differ drastically depending on the query you type into the search bar. Google uses complex algorithms to define what exactly you are looking for.
Search intent is a huge topic that deserves its own article (oh, look, we've got it right here!). Some marketers say there are only three major types of intent: informational, navigational, and transactional. However, I personally prefer a different approach that outlines 4 main types of intent that cover about 99% of all queries users make:
Educational Search Intent: A user wants to learn something
Navigational Search Intent: A user wants to find a specific page.
Commercial Search Intent: A user looks for a product to buy later.
Transactional Search Intent: A user wants to buy a specific product now.
Let's see how the SERP changes depending on the intent of your query.
Educational Search Intent
So, I have an urgent need to learn which Ferrari car is the fastest. Let's check it on Google: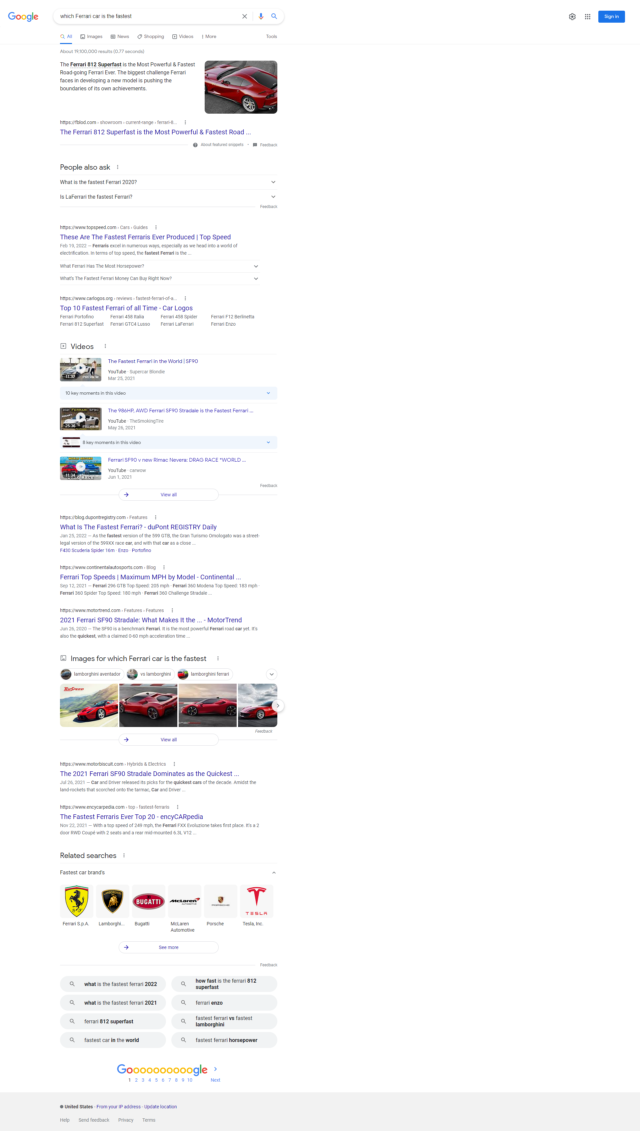 Oh, how convenient! Google provides me with the answer right at the top of the SERP, I don't even have to click the link to get this information. Neat!
Navigational Search Intent
Now I want to navigate to the Ferrari website. Google it!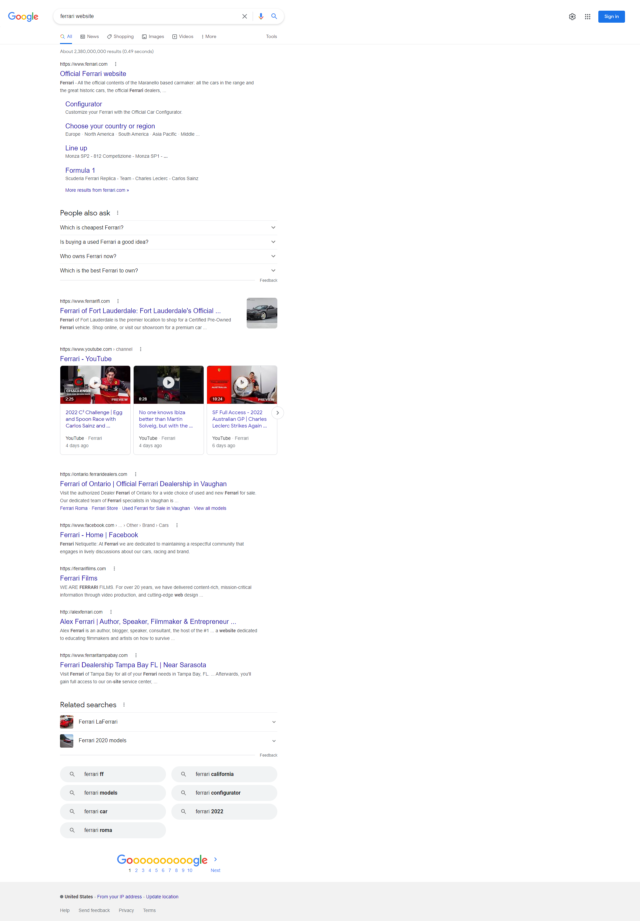 After looking at those beautiful cars, I have no choice but to buy one for myself.
Commercial Search Intent
Unfortunately, I'm a bit short on money, so my commercial intent query will look like this: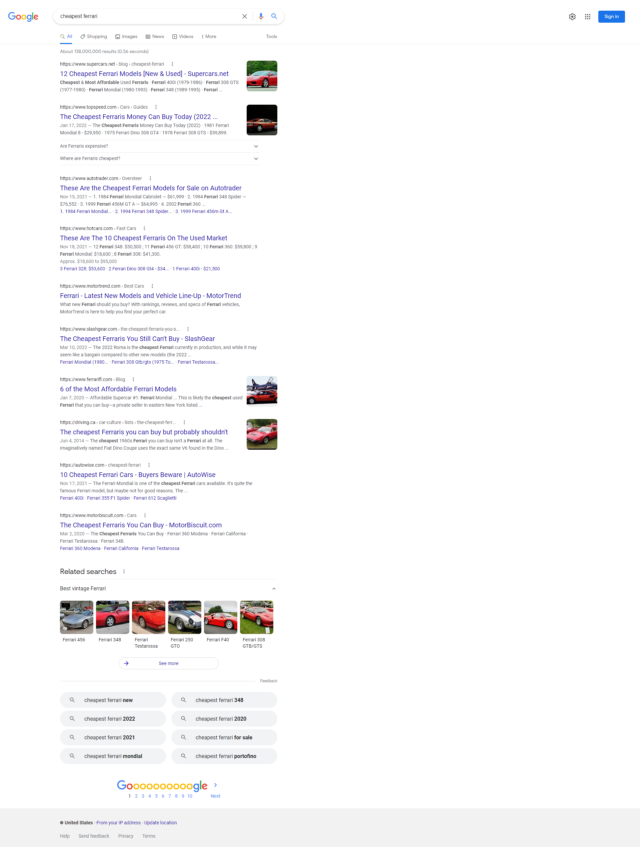 The blog posts suggested by Google were really helpful, and now I know which car I want to buy.
Transactional Search Intent
And here comes the transactional intent query: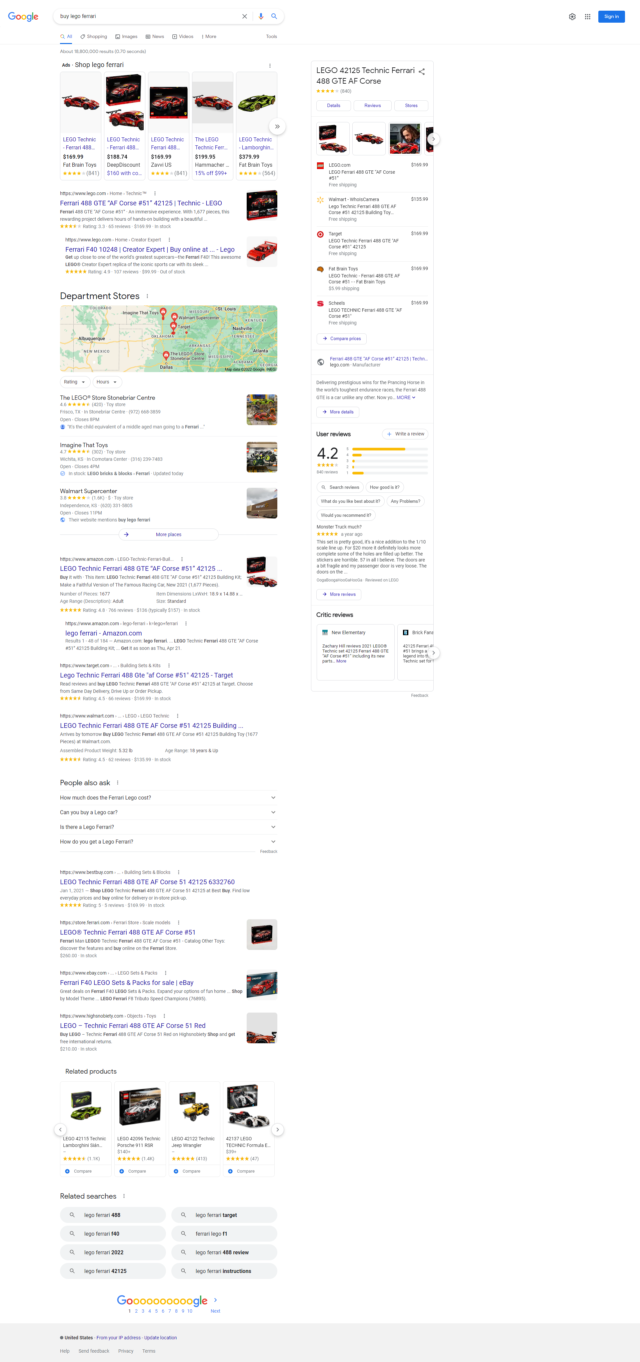 As you can see, such SERP consists only of ads and store page links. Google is dynamically changing to meet your needs in the best way possible. Now let's dive deeper into what elements SERPs consist of.
The Anatomy of SERP
All results on each of Google's SERPs are divided into two main categories: paid and organic.
Paid Search Results
Paid results are rather conveniently marked, so you can always tell them from organic ones.
Typically, you can find paid results at the top and the bottom of a SERP. Here is an example: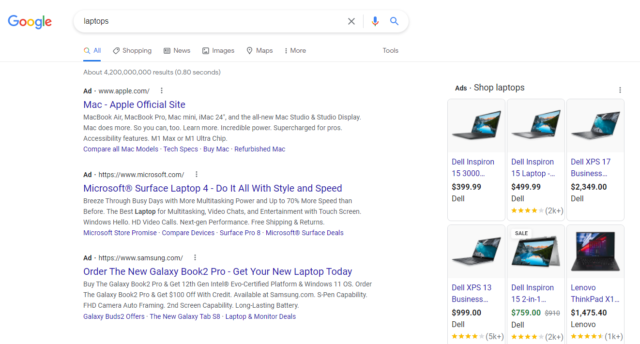 However, what interests us the most in SEO today is organic results.
Organic Search Results
Here is how a typical organic results snippets look: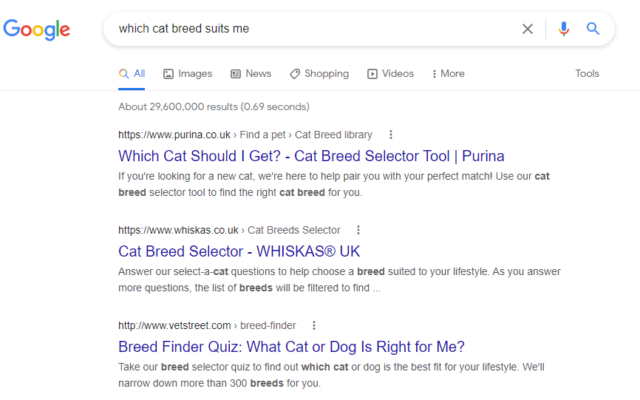 Anything that differs from a regular snippet is called a SERP feature. There are quite a few types of SERP features. Here are some of them:
Featured Snippet
Some SEOs consider featured snippets the crème de la crème of SERP features. And rightfully so: a featured snippet occupies the so-called Position Zero on a SERP above all other results. It provides the user with an excerpt of content from the page it links to.
Just like this: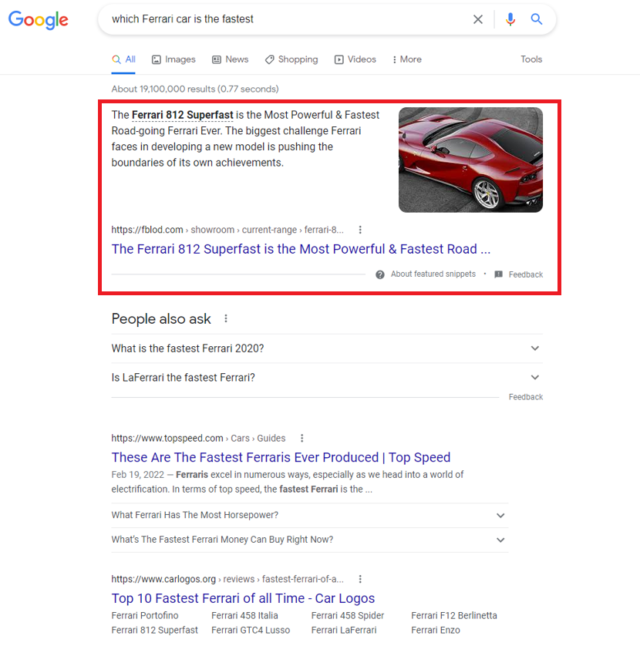 Featured snippets usually appear when a question is asked. Naturally, the click-through rate of featured snippets is very high, that's why they are so sought-after by digital marketers.
So, what does it take for your page to appear in a featured snippet for a particular query? Check who is ranking there now and then create a better piece of content that answers the same question.
"Better" in this case means "more useful, clear, and trustworthy".
To increase the chances of getting a featured snippet, your content must be well-structured. Use definitions, lists, tables, and step-by-step instructions. All of those may appear in featured snippets.
Sometimes a Position Zero may even feature a video instruction: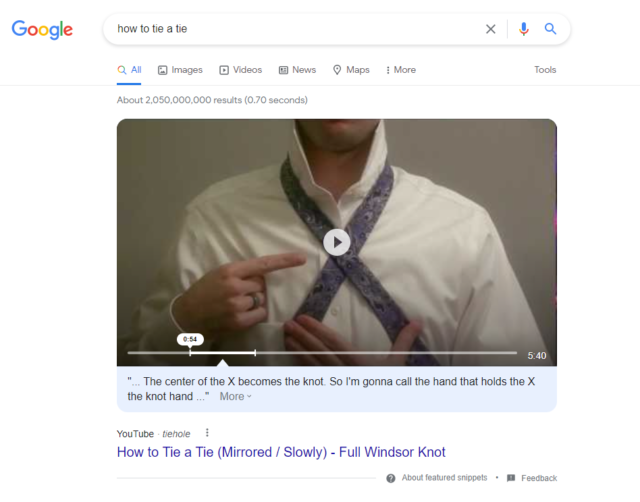 Knowledge Panel
The knowledge panels appear when you search for a certain entity – for instance, a person or a company. Here is the Wellspring Digital's knowledge panel: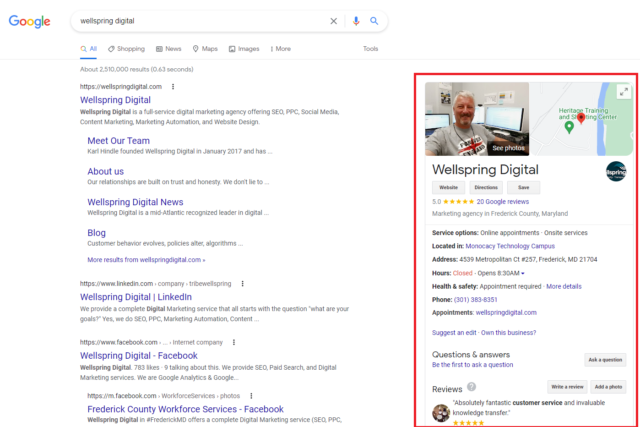 How does Google know that an entity exists? It uses the Knowledge Graph which can be very simplistically described as a database of everything Google knows about.
Pulling data from Knowledge Graph, Google composes a panel that shows the most relevant information about that entity. In the case of Wellspring Digital, it's the office address and working hours, reviews, and so on.
If you want to have a knowledge panel for your company, you must make sure Google is aware of its existence. To make it happen, make sure your company has a Google Business Profile and use Schema markup on your website.
You can learn more about how Google Knowledge Graph works on this page.
People Also Ask
This SERP feature shows questions related to a query.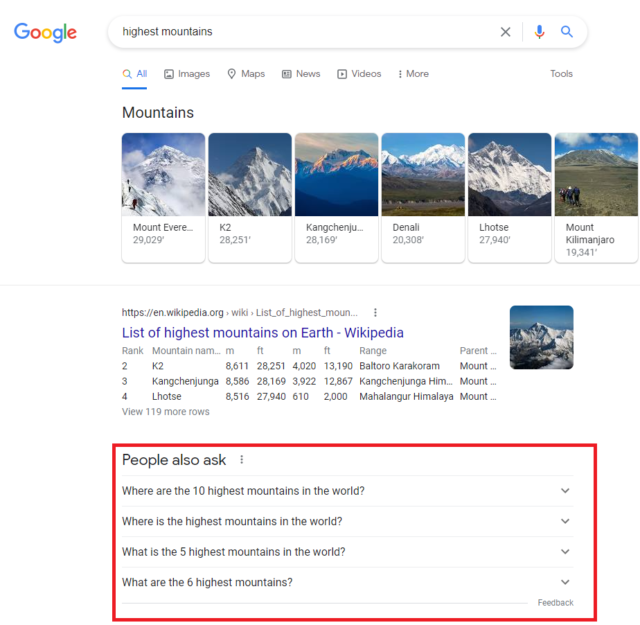 If you expand one of these, you get a link to a page with more information on the related topic and get more related questions uploaded.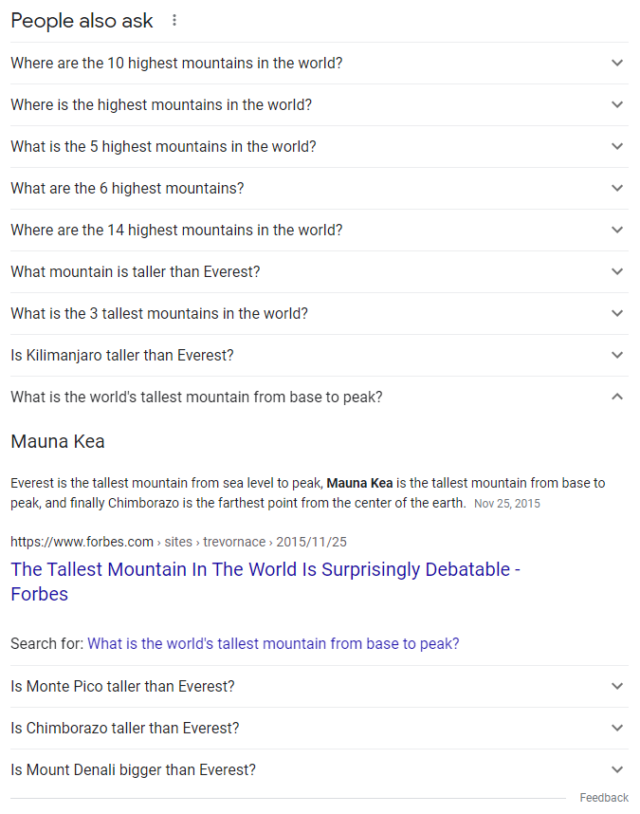 Just like with the featured snippet, your website page may appear there if it has a clear and relevant answer to the question.
Local Pack, AKA Local Three-Pack
The local pack often appears when a user searches for a brick-and-mortar business in a specific location. For instance, a used cars dealership in Frederick, MD: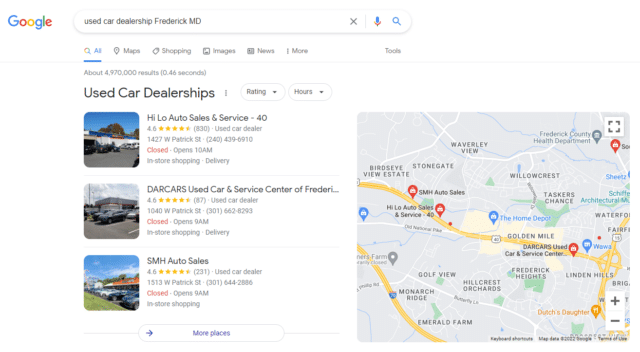 Here you can see a list of businesses with working hours, addresses, reviews, and a map showing their locations (full disclosure: the top listing is a Wellspring Digital client).
To get into the local pack, you must make sure your Google Business Profile contains all the necessary data and is optimized. Positive reviews of your business also help a lot.
Other SERP Features
Google is constantly experimenting with SERP features, adding new and improving existing ones. To save your time, I'll mention a few of them without diving too deep into the details.
Sitelinks offer additional links to different parts of your website. They are extremely useful as they allow you to claim more precious space on a SERP.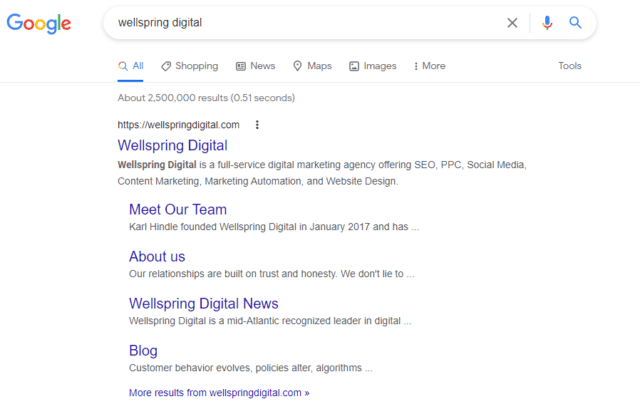 Videos, Top Stories, and Latest Tweets can be seen on SERPs when they are relevant to the entity you search for.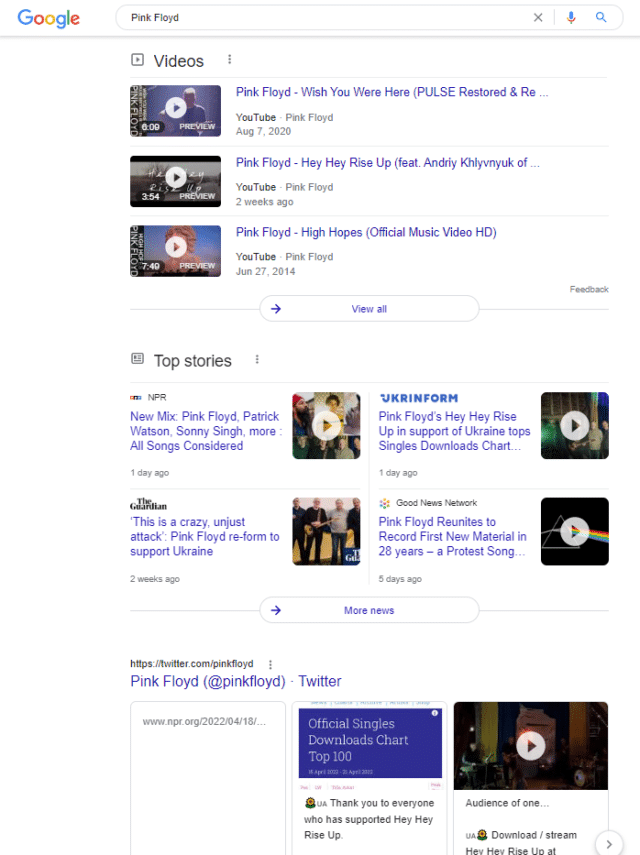 Image Pack is shown when Google considers that it's important to show you images to fulfill your query.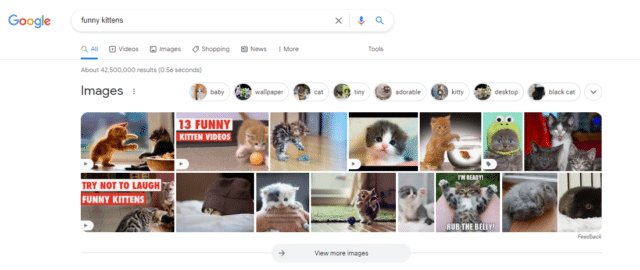 Top Products Carousel is an organic eCommerce featured snippet showing the most popular products relevant to a query.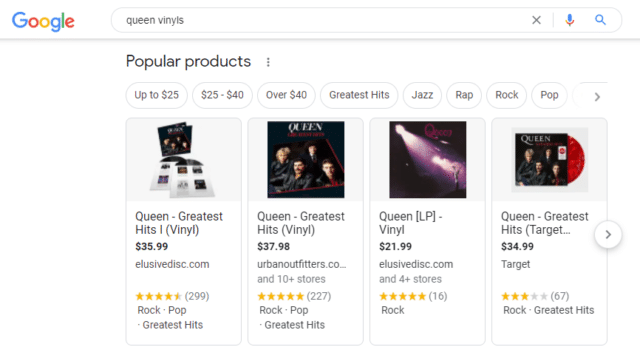 Rich snippets look similar to a regular one but provide some additional information. For instance, a reviews snippet shows a product review score to help you evaluate it right on the SERP.
Your website must have review markup implemented and actual reviews written by users to appear this SERP feature.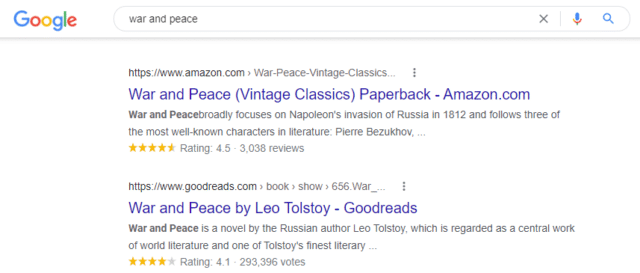 How to Win SERP Features: General Guidelines
It is probably clear to you by now that optimizing for each SERP feature is not an easy task. You essentially have to optimize a page to rank in the top 10 results for a certain keyword and then make an extra step to win each additional SERP feature.
But in this case, the prize is worth the price. SERP features allow you to stand out from the crowd and may skyrocket your website's organic metrics.
Here are some very general rules to follow in order to get a chance of winning a featured snippet:
Speed and UX: your website has to be as fast and user-friendly as possible. Quick loading times, clear structure, and easy navigation are a must.
E-A-T Worthy Content: our content has to be unique, helpful, well-written, and optimized. No keyword stuffing, no clickbait headlines, no stolen content (obviously). Our E-A-T checklist will help you to learn more about Google's content requirements.
Structured Data: Your website has to use structured data. This is the way to tell Google where to look to provide the users with the most relevant results. Don't underestimate the power of Schema markup.
Does following all these rules guarantee you'll win a featured snippet or another SERP feature? Nope. But without doing all the above, your chances are close to zero.
By the way, if you are looking for a team of professionals who can help you optimize your website and improve the odds of winning a snippet feature – look no further, you've already found us!