How many articles and books have you read recently that told you to make sure your sales and marketing teams are working together? I have seen quite a few in my travels.
The Old Sales and Marketing Model
Back in the pre-digital days, marketing and sales were often two very different departments with different sets of performance metrics. Marketing was in charge of trade shows, shirts, and chotchkies.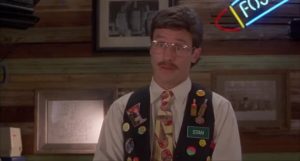 While the sales team was solely focused on the ABCs…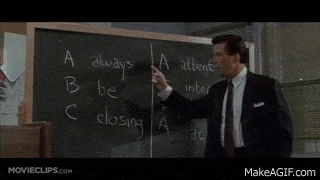 Everyone knew their lane and all was well… or was it?
Marketing in the Digital Age
Clients now have greater access to information. They no longer need a salesperson to walk them through every step of the sales process. Now, by the time a client gets to the salesperson, many of their questions are answered and they are ready to buy.
Customers expect a lot more from companies. Marketing is no longer just about nice-looking things. Although the good marketers back then would disagree that this was all there was and rightly so, but anyway.
Marketing today gives the customer much of what they need before they even enter the so-called sales pipeline. As a former Wellspring Digital Chat guest, Scott Stratten says, we're no longer using a sales funnel, now it's a sales cloud…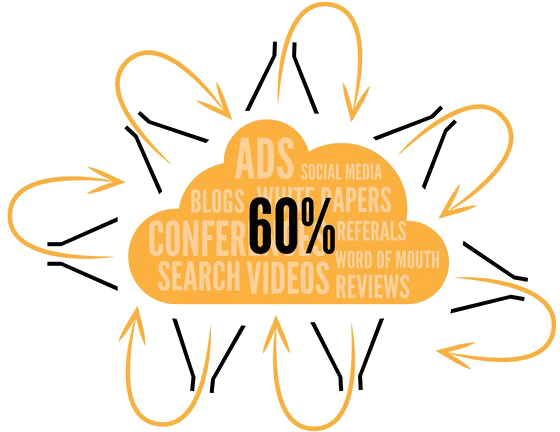 What he means by a cloud is that the sales process is no longer a linear path. 60% of the sales cycle happens before a salesperson is involved and not in a predictable way.
Modern buying cycles meander and can include any of all of the following…
Customers check you out before you are even aware of their existence. They read your content, check out your website, watch your YouTube channel, read your Google Business Profile reviews, and so much more.
Enter sales enablement. Sales enablement is the glue that keeps sales and marketing together, skipping merrily down the yellow brick road. Sorry.
What is Sales Enablement?
Sales enablement is another one of those terms that software people came up with to help sell SaaS solutions. That said, it is an accurate term that means pretty much what you'd think it means.
HubSpot defines sales enablement as…
"The iterative process of providing your business's sales team with the resources they need to close more deals. These resources may include content, tools, knowledge, and information to effectively sell your product or service to customers." – HubSpot
Sounds exactly like what you'd think when you hear the term sales enablement. Unless you were thinking it was some sort of psychological term describing a toxic relationship of codependency. Just me? OK.
Seismic, a marketing and sales enablement platform, defines sales enablement as…
"The strategic approach to unite stakeholders in sales, marketing, and operations around the common goal of providing salespeople with the right resources, processes, and technology needed to engage with prospects and customers throughout the buyer's journey and sell effectively." Seismic
So, how does sales enablement help sales and marketing teams to see eye to eye? Simply put, both teams are responsible for a successful sales enablement strategy. They rely on each other to meet and exceed the business goals they both agree on.
They sink or swim together. Let's unpack this…
A Successful Sales Enablement Strategy – Marketing and Sales Hugs and Kisses
OK, maybe hugs and kisses is a bit extreme. Let's go with high-fives or fist bumps.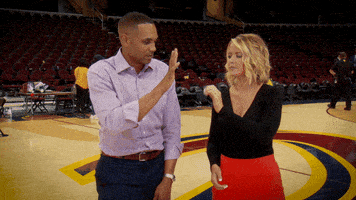 If you watch our Wellspring Digital Chat videos, then you likely saw Janet Driscoll Miller talking about the importance of sales and marketing aligning to achieve common target goals, and making sure both teams are focused on their piece of the bottom line.
She puts it a little better than I just did…
"And so in the book (Data-First Marketing), we talk a lot about how marketing needs a seat at the table. Marketing needs to be there to say, this is what we did, this is what we can do, and here's how we can contribute to this business goal this year. And in part, I think, in the past, we haven't been invited because we're seen as the organization's group that makes things look pretty." – Janet Driscoll Miller, co-author of Data-First Marketing
Marketing today has a much larger impact on the success of the sales team. It's no longer just about "smiling and dialing." Sales today, especially in B2B, is about supporting your customer as they navigate the sales process. And marketing now plays a huge role in that sales process. Sales enablement is marketing's way of making sure that everyone, the customer and the salesperson, has what they need to make the sale happen.
A sales enablement strategy is the way in which sales, marketing, and even operations work together to better convert leads and improve the bottom line while meeting the needs of the prospect as they navigate the buying journey.
Marketing Supports the Sales Team with Targeted Materials
Buyers today are doing more research and devouring more content. A salesperson may not even talk to a prospect until they are well over halfway through the so-called sales funnel (or cloud, right Scott?!?).
Marketing, working with sales and operations, can create the content that prospects need. Need being the critical word here.
Content efforts have evolved over the years to focus more on value. A well-executed content strategy will combine information from…
Client-facing staff like sales and customer service
Marketing staff like SEO, web design, and writers
Operations staff like developers, maintenance, and product designers
These teams all have a say in what sales enablement content looks like. Buyers today expect more from your content efforts. And salespeople need content that answers questions and addresses any concerns that the buyer may have.
What Does Sales Enablement Content Look Like?
Content is not a keyword-only endeavor. Writing content solely to rank in search engines is an incomplete effort at best. At its worst, writing solely for search engines may actually hurt your sales efforts.
All content should match a prospect's needs. Sales enablement content can come in many different forms, such as…
Whitepapers
Whitepapers are a deep-dive study into a service or product offering stats, figures, real-world examples, and more.
eBooks
eBooks are lighter content efforts that give in-depth and valuable information. Think of a blog series put in one 10-15 page downloadable eBook.
Case Studies
Case studies should be written to address any potential prospect questions or concerns and not as a glorified testimonial. A prospect should be able to use this content to qualify themselves as an ideal customer by using a real-world example of how your products/services solve business problems a prospect might have.
Product Demo Presentations
Demos can be self-guided videos or slide decks or require a salesperson/product expert to walk a prospect through them. They should focus on real questions, problems, and concerns a prospect might have.
Email and LinkedIn Message Templates
Today's salesperson could possibly be sending 50-100 emails a day to prospects. Save them time by creating email templates with content addressing concerns or questions a prospect might have throughout the sales cycle.
The salesperson could simply copy and paste this content into an email or LinkedIn message and then adjust it to work for the specific recipient. This is not only a time-saver, but it also assures that all prospects are getting messages that are on brand and helpful.
Blog Posts
Blog posts, like this one, can be anywhere from 800 to 2,000 words (I struggle with the short ones, obviously). The length is not as important as what the content does for the prospect. It should educate them.
They should learn something and be further qualified along the sales cycle. Blog posts are great fuel for automated drip campaigns in your marketing automation platform and sales follow-up content.
Video
These can be videos with industry experts, like our Wellspring Digital Chat series, product demos, or case studies using video clips of the actual client discussing how your product or service helped them to solve a business problem.
A Sales-Ready Content Audit
You may already have a lot of this content on hand. If you are considering sales enablement or feel that your current sales enablement strategy needs help, a content audit is a great place to start.
Sales can communicate with marketing about what the buyer's concerns and questions are. Operations and customer service departments provide valuable insight into where a customer will need the most help and how this help can be transformed into sales enablement content.
Perform an in-depth content audit to determine where there are gaps in existing content based on the needs of the sales reps and what content would help to close a sale. Keep a spreadsheet to track all of your content and assess each piece on criteria such as…
Relevance and validity – is it still useful and will it need to be updated?
Where it falls in the buyer's journey – map each piece along the buyer's journey to make sure you have content for each stage of the buyer cycle.
How it can be shared – is it better to be emailed or as a download? will it require the salesperson or operations to walk a prospect through it?
Place content in a shared doc like Google Docs, or in your CRM. Make sales content readily available to the salespeople so they don't have to scour the website looking for the content they need.
Sales Enablement Technology
Speaking on CRMs, the best sales enablement strategies depend on marketing technology to keep things organized, efficient, and effective. Sales enablement tech can be any or all of the following…
Marketing Automation – HubSpot, Marketo, SharpSpring, etc.
CRM (if separate from your marketing automation platform) – SalesForce, ZenDesk, Sugar, etc.
Chatbots – HubSpot, ChatBot.com, Freshchat, etc.
Marketing Automation
Use marketing automation to score leads and set up automated email sequences for certain leads that are time and/or activity triggered. Use your Marketing Automation platform or something like Calendly so prospects can schedule an appointment via an automated email.
CRM
Most marketing automation platforms come with a CRM feature. Whether you're using a HubSpot CRM or something like SalesForce isn't as important as what you're doing with it.
Sales and marketing teams need to agree on the different stages of the pipeline. For example, you might have Prospects, Marketing Qualified Leads, Sales Qualified Leads, Proposal, Negotiation, and Close.
Set it up so that you can align sales content with each stage of the pipeline. When you are using a platform like HubSpot, you can use data from your CRM to better inform the workflows and drip campaigns you're setting up on the marketing automation side.
Chatbots
Chatbots optimize the rep's time by focusing their efforts on qualified leads. The chatbot sequences will weed out any prospects who are not yet ready to talk to a salesperson by answering specific pre-sales questions.
In my interview with Ardath Albee, B2B marketing badass, she talks about how customers know they're talking to a bot but still find value because it was obvious that the chatbot was configured to help them find solutions quickly.
Marketing and sales can develop a series of pre-sales questions and answers that address prospects' questions to determine what stage of the buying cycle they are in. Additionally, chatbots can also track valuable sales data and pass along qualified leads while tracking activity, location, and demographic data.
Live Chats
If you have an inside sales team, consider a live chat as well. A prospect who has qualified themselves using the chatbot can then be guided further along the buying journey before an outside sales rep is brought in for a call or meeting.
There are other examples of marketing technology out there. That's a post in and of itself. Don't get sucked into the martech rabbit hole. Instead, your sales and marketing teams should work together to identify where things can be automated and agree on what data needs to be tracked.
All of these efforts should all contribute to your agreed-upon business goals like the number of qualified leads, product demos, or meetings booked. Work backward from those goals to determine what content and technology you need to make it happen.
Are You Feeling the Marketing and Sales Love?
Sales and marketing must work together to make sales enablement successful. And sales enablement helps your sales team with their efforts.
This means that you'll be able to track the prospect as they engage with all the content you've created which will inform future marketing efforts. In other words, sales and marketing are working from the same playbook.
Remove the silos and make marketing a team sport where everyone can offer input. At the same time, sales enablement content is the stuff that salespeople love meaning they have a greater reliance on marketing efforts.
This is what Ardath Albee calls sales and marketing integration. Marketing needs a seat at the table and sales should have a say in the kinds of content marketing created.
And in the end, it's a big sales and marketing love fest! OK, maybe that's a bit extreme, but you know what I mean.