Digital marketing from the trenches: our Managing Partner, Karl Hindle, gives his perspective on digital strategies which are working and which you can actually use in practice
We are now way past the point where the question whether adding digital marketing to your mix is a good idea. Businesses must have an effective set of digital strategies to maintain their market share or give customers up to competitors.
This means huge opportunity for anyone willing to execute well and the downside is  negligible.
Just as your business is grappling with the fast-changing digital landscape, so are your competitors, which means you have a great opportunity to take the high ground and seize market share for yourself, but what exactly, should you be doing?
Here are six digital marketing strategies to consider adding and the good news is you can do them all without a high price tag or heavy resource lift.
Email is still a powerful lead and sales generator, with roughly $38 dollars returned for every $1 spend (this varies widely depending on your niche, but it is very effective).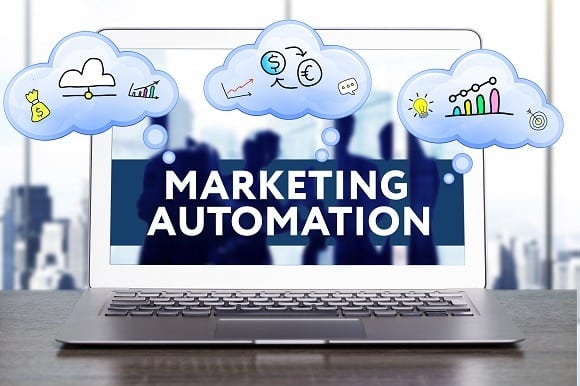 Marketing automation takes email marketing into the 21st Century, acting as a marketing force multiplier and letting you automate a lot of marketing and sales tasks.
An effective marketing automation platform will provide your business with the ability to identify and track web visitors, targeting them with relevant messaging and offers that they self-qualify themselves for, plus you can lead score, segment, nurture, and alert sales people to opportunities when they are hot to trot.
Major providers are HubSpot, Pardot, Sharpspring, and Marketo: we use Sharpspring internally, but HubSpot and Pardot are highly rated, while Marketo can be clunky and cumbersome to use but boasts greater functionality for the higher price tag.
Video & Podcasting is an Effective and Cheap Digital Marketing Strategy
Video is no longer a high-end, high cost item for marketing purposes, but production quality and presentation are highly important. Gonzo video marketing works well if you are a highly personable B2C outfit, but you'll need more than that if you are a B2B player.
Video is highly effective for getting your messaging out there, and search engines are hungry for good video content to put into their results, so make sure you marry video with your SEO efforts. As a generality, focus on 90-second explainer videos for promo purposes, and keep video ads below 15-seconds (and YouTube is dirt cheap at this time for promoting them).
Look at off-the-shelf video ad creators as a starting point to experiment with: we recommend you take a look at
Viddyoze
and
VideoBlocks
for ad and intro/outro creation, and
Camtasia
as an entry-point video editing software tool.
Podcasting works well for those with the personality and subject matter to keep a listener engaged and coming back, and I find they work very well in areas where education and technical knowledge are in demand with webinar-type broadcasts. For in-house teams, all you need is a high-quality mic and podcasting software such as Audacity (free, basic, but gets the job done) plus a good imagination.
For those with more time and resources, video webinars are effective, especially for training and live demos, but make sure you have truly gained a solid grasp on your subject-matter and audience. We strongly recommend GoToWebinar from Citrix, Webinato, and Livestorm as webinar tools to trial.
Never forget to promote your broadcasts well in advance and integrate these efforts with sign-ups and opportunities to engage before and after the event. These sign-ups should then be actively marketed to and are ideally placed within your marketing automation set-up as top-of-the-funnel prospects.
Create a Seamless Experience Between Mobile & Desktop
For some time Mobile has been bubbling around the top of marketing agendas, especially for digital practitioners. Responsive or adaptive design makes sure your content is best displayed on smartphones and tablets, however optimizing for Mobile is more important than ever now that Google has moved to a Mobile First search algorithm for both desktop and mobile devices.
Dawn Anderson, Managing Director of Move It Marketing and my favorite digital marketing diva wrote a great piece in Smart Insights on Mobile First and practical steps on optimization.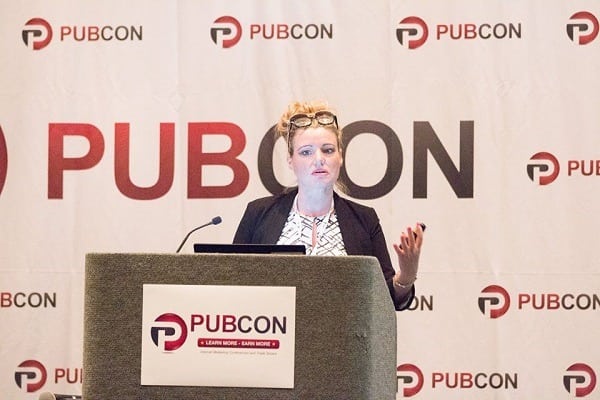 For marketers looking for further evidence on the rise of Mobile, you can download Google's Consumer Barometer 2017 here: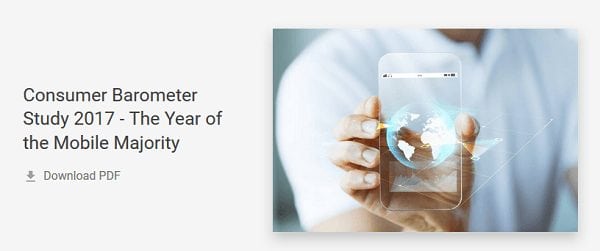 What this means is that while desktop-versions of websites may still be included in search results, your overall SEO can and probably will be negatively impacted if you don't address this.
Ensure you pay attention to Mobile website optimization, particularly making sure your great desktop content is available on Mobile, use of structured data & metadata on both desktop and Mobile versions, and so on.
Ian Brodie has a great article on using Schema Markup to Add Google Review Stars to SERPs
Move to HTTPS
Google is tightening the noose around websites that have not made the move to HTTPS – we covered this recently, but suffice to say if you haven't done this by October 2018 you can expect a significant drop in online lead generation from your website.
If your website is not converted to HTTPS by October 2018, Google users clicking through to your search result are going to see a warning page advising them the site is not secure. This will drive a significant chunk of your potential visitors to your competitors who are HTTPS-enabled.
The good news is that this is a pretty simple fix for smaller websites, but larger ones need a clear migration path to avoid issues.
Either way, you cannot ignore this issue any longer so grab this low-hanging fruit before it rots.
Claiming and Actively Managing Google My Business
Every business should claim their Google My Business (GMB) listing, and it needs to be actively managed because users can edit and modify it (including competitors).
Google has also upgraded GMB functionality which allows for more information and benefit to be leveraged from it, including extended descriptions, a website builder (if you don't have a website) and more.
GMB is also where you get to house your Google reviews, and you should be looking to tie these in with your structured data and Mobile optimization. We cannot underestimate the importance of reviews and other listing sites aside from GMB, but this is the main one in our opinion.
In my experience, more than 90% of GMB listings are created and then neglected: this is a big opportunity for those who are prepared to put in a little effort to update and monitor their listings.
We wrote on how to leverage your GMB here and you can see a video on how to claim your listing if you haven't already done so.
Buyer beware of the multitude of providers out there offering budget services to get you signed up to review management; a lot of them are sloppy and cavalier, and they are managing an integral part of your reputation and branding.
We use Yext for in-house and client listings, but it is how the tool is used that delivers ROI.

Leverage Social Media for Customer Service & Top of the Funnel List Creation
Generating sales and leads from Social Media is still problematic for most businesses, even with improvements in advertising platforms on Facebook, LinkedIn, and Twitter. The gold in Social Media is not in lead generation but in demonstrating superb customer service again and again, reinforcing your brand and value propositions.
Social Media is also a great resource for pulling prospects into the top of your marketing funnel, allowing you to utilize lead magnets to collect email and demographic information. Creating marketing funnels with engaging lead magnets and content collateral allows you to target your audience with relevant material they can get in exchange for their permission for you to market to them.
This works very effectively when you tie your marketing funnels in with a marketing automation platform, which then allows you to establish messaging streams to nurture top of the funnel contacts into qualified leads your sales team can jump on.
Integrating Everything
You may have picked up that many of these strategies relate to and support others, and this is a fundamental point: nothing works in isolation.
Finding the right mix is crucial, but integrating everything together to provide a seamless, optimized experience across multiple marketing channels, both digital and traditional is where the real ROI is found.
Call: (717) 658-8683
Email: admin@wellspringsearch.com
Karl Hindle is founder and Managing partner of Wellspring Digital, LLC, former digital director of ChildFund International and Director of Marketing for Swift Software, Inc. and a digital marketing professional since 2003.